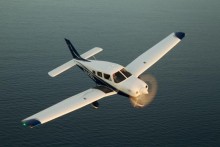 VERO BEACH, Fla., June 29, 2015 – Piper Aircraft has announced the delivery of the first production diesel Archer DX into Europe to European Aircraft Sales in Denmark.
"The diesel powered Archer DX was designed to provide our customers with greater access to more economical and readily available fuel sources.  The aircraft offers exceptional fuel burn, which results incompetitive operating costs.  Our continued dedication and commitment to ongoing product advancements makes our family of products the pilot's choice," said Simon Caldecott, President and CEO at Piper Aircraft. "Delivery of the Archer DX into Europe makes sense."
Originally launched in cooperation with Continental Motors at the Aero Friedrichshafen tradeshow in Germany last spring, the Archer DX has been marketed throughout Europe ever since. With traditional leaded avgas being expensive and difficult to find in some countries, the DX has been readily accepted and widely acclaimed. A Continental CD-155 compression-ignition engine powers the aircraft, with the capacity to use both Jet-A and diesel fuel (EN590) independently or in any ratio combined.  
About The Piper Archer DX
Powered by the Continental CD-155 diesel engine, the Archer DX cruises at a speed of 114 KTAS / 211 km/h (at 70% power) on only 5.8 gph / 22 kph of jet fuel. The G1000 avionics is standard and provides a great mix of low workload and high technology. The special flight school interior, and the aircraft overall, is designed to stand up to the rigors of flight training. The Archer DX offers competitive operating economics with a proven airframe perfect for flight training organizations worldwide.