Cutter Aviation FBO & Line Services:
Your Aircraft is in Good Hands When You Are On a Cutter Aviation Ramp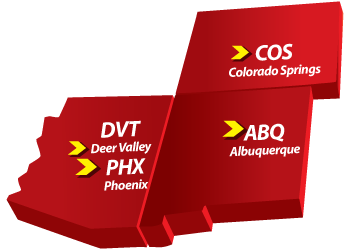 Serving the fueling needs of the General Aviation & Corporate Aviation Industry is far different than what you would expect at your local gas station.  The product — fuel — may be similar in many ways, but that is where the comparison stops. Even the name of an aviation fueler: a Fixed Base Operator or FBO, is far different than what you'd expect.
Beyond the obvious, it's the Quality, Service, and Value provided to customers that sets FBOs apart.  Cutter Aviation maintains the highest standards of all three and consistently delivers them with each and every aircraft that visits one of our four FBOs around the Southwestern United States.  From Arizona to New Mexico; Colorado to Texas, customers flying into a Cutter Aviation FBO will be certain that the fuel, equipment and technicians are of the highest quality, their needs are met with friendly, helpful and prompt customer service, and all at a fair price — the kind of value that you'd expect from a family-owned and operated company that has been successful since 1928.
Regardless of size and regardless of type, all Cutter Aviation customers become like members of our family.  Pilots taxiing in with a single-engine piston aircraft can expect to be treated just like the crew arriving in a large corporate jet — because everyone deserves the highest quality, service, and value.
We invite you to explore our four FBO locations and see for yourself why pilots and flight crews have picked Cutter Aviation for decades!  We look forward to having you as part of the Cutter Aviation Family!
| | |
| --- | --- |
| | Cutter Aviation's four FBO Locations to Serve You Around the Southwestern U.S. |
| | Current Posted Retail Jet-A and 100LL Avgas Prices at All Cutter Aviation FBOs. |
| | Available Opportunities to Base Your Aircraft and/or Business at Cutter Aviation Locations Around Our FBO Network. |