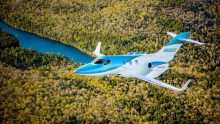 Innovative light jet sees great success worldwide.
By Pia Bergqvist
Greensboro, North Carolina-based Honda Aircraft Company announced it has started delivering the upgraded version of its light twinjet, the HondaJet Elite. The company announced the modifications earlier this year and is replacing the inaugural HA-420 model with the Elite version.
Upgrades include an increase in the range to 1,437 nm, modifications to the flight planning features of the Garmin G3000 avionics and the addition of angle of attack, stability protection, coupled go-around technology and underspeed protection.
Cosmetic improvements have been made in the cabin and with the addition of more paint options. The cabin now includes an optional full-service galley, Wifi and a built in audio system with hidden speakers.