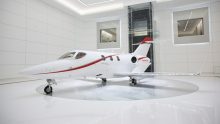 The newest version of the popular HondaJet, this iteration includes plenty of upgrades for passenger comfort.
BY JOHN LYON ON AUGUST 8, 2018
Like a flying sports car, the HondaJet (which went into service about three years ago) is small, sexy, and highly capable—and now it's even better. Earlier this week, Honda Aircraft announced that the very first HondaJet Elite, the upgraded version of the company's signature very light jet, has been delivered to its first new owner.
Though it shares the same DNA, the Elite has some big shoes to fill in replacing the original HondaJet, which was the most delivered jet in its category last year as well as in the first two quarters of this year. And while the exterior remains the same (who would mess around with that sleek beauty?), the new jet boasts a plethora of improved features, both in terms of performance and passenger comfort.