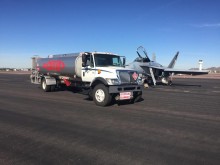 PHOENIX, Arizona – Cutter Aviation finalized the purchase of Atlantic's FBO at Phoenix, Deer Valley (Arizona) Airport December 8th, 2015. During the consolidation, Cutter will operate from both facilities (Cutter and former Atlantic) as the premier provider of FBO services at Deer Valley Airport.
The acquisition of the Atlantic facility builds Cutter's current operational presence at Deer Valley and allows it to expand services and facilities. Future plans include building new hangars as well as a modern, welcoming FBO facility offering superior customer amenities for passengers and crews. "As the busiest GA Airport in the US for 2014, we feel this is an excellent opportunity for us and all of our employees," said Will Cutter. "We feel this acquisition enhances our ability to more effectively compete and gain business from flight departments currently utilizing other local airports.
Cutter Aviation will integrate the former Atlantic employees into its operation. Employees will be trained on all Cutter procedures, systems and work ethic that have made us one of the top Customer Service providers within the FBO industry.