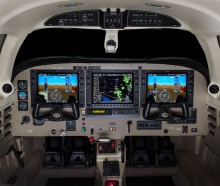 PHOENIX, AZ — The Federal Aviation Administration (FAA) issued Supplemental Type Certificate (STC) SA01705WI on December 20, 2012 to Cutter Aviation based at Phoenix Sky Harbor International Airport (PHX) for the installation of a custom glass cockpit panel package powered by the Garmin G950 as a retrofit to older model Piper Meridian aircraft to replace the Meggitt or Avidyne EFIS systems as originally installed.
Combining and expanding on the technology found in the popular Garmin G1000 package, the Garmin G950 retrofit enables owners of older model Piper Meridian aircraft to upgrade the capabilities of their aircraft to the most modern standards to meet and exceed the newest requirements for NextGen airspace and WAAS while providing a greatly enhanced level of situational awareness and navigation flexibility. Cutter Aviation worked in direct partnership with Garmin to engineer and develop the G950 retrofit package on the Piper Meridian.
"We are very excited to now have full STC approval to begin installations of the Garmin G950 Retrofit Package for the Piper Meridian here at Cutter Aviation" said Will Cutter, President and CEO of Cutter Aviation. "Piper Meridian owners have been asking for a fully integrated avionics upgrade for their aircraft, and we are pleased to now offer them such a package. Throughout the evaluation and testing period, our test pilot team kept remarking how the G950 package even outperforms the G1000 system as installed on new Piper Meridians, so we are confident that owners will love what the Garmin G950 will do for their Meridian."
Starting with a new, custom engineered panel and glareshield, the Garmin G950 STC package provides a much cleaner and more modern panel design than found on any existing Piper Meridian. The package features the large 12-inch Garmin GDU-1240A Primary Flight Display (PFD) and Multi-Function Display (MFD) units configured as either a two-display (single PFD / single MFD) or three display (dual PFD/single MFD) package. The Garmin G950 installation completely replaces existing Attitude & Heading Reference Systems (AHRS) with dual Garmin GRS 77 AHRS units and also replaces the OEM Engine & Airframe Interface Unit (EAU) with a new Garmin GEA 71 EAU that fully integrates into the system. Additionally, the G950 system fully incorporates the existing S-TEC IntelliFlight / Magic 1500 autopilot into the Meridian package. Installed, the G950 modification provides a Model Year 2013 comparable instrument panel that is cleaner and more modern and provides significantly more glass surface area, safety features, and navigational tools than other pre-G1000 models in the Meridian fleet.
While Cutter Aviation is installing the G950 modification, Meridian owners may also opt to include the additional installation of the approved Gross Weight Kit, which adds over 242 lbs to the aircraft's gross weight, bringing the finished aircraft to 2013 Model Year marketability levels. As an additional benefit, installation of this modification also includes a fresh annual.
Installations of the Garmin G950 Retrofit Package for the Piper Meridian are already commencing at the Cutter Aviation avionics facility at Phoenix Sky Harbor International Airport (PHX) in Phoenix, AZ. Installation positions are currently being booked for installations beginning in January, 2013. Completion time and pricing varies based upon the subject Meridian. For more information on the Garmin G950 for Piper Meridian, please call 877-907-7999 or visit.
High Resolution Photos are available at: www.CutterAviation.com/G950forMeridian
About Cutter Aviation
Celebrating 85 years of family ownership and operation, Cutter Aviation has been the leader in the business of aviation in the Southwestern United States and beyond for over eight decades. As a full-service aviation company, Cutter Aviation provides customers a wide range of quality General Aviation services including: fuel and line service support, new and pre-owned aircraft sales, aircraft maintenance, avionics design/installation/repair, aircraft management services, and aircraft charter through Cutter Flight Management, Inc. Cutter Aviation's convenient FBO & Service facilities in Arizona, Colorado, New Mexico, and Texas are known for providing exceptional customer service and amenities for domestic and international travelers of all types. Originally founded in 1928 in Albuquerque, New Mexico, Cutter Aviation remains the oldest continually family-owned and operated aviation services company in the United States and is a member of the Pinnacle Air Network. For more information, please visit http://www.cutteraviation.com.