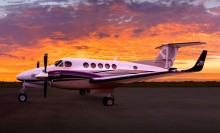 PHOENIX, ARIZONA — Cutter Flight Management is proud to announce the addition of a factory new Hawker Beechcraft King Air 250 to its growing air charter fleet in response to client demand. The King Air 250 is one of the most requested turboprop aircraft for both business & corporate aviation flights and personal leisure trips.  The King Air 250 has one of the most spacious and comfortable passenger cabins in its class and can easily accommodate up to 8 passengers and baggage.  It is well suited for short to mid-range flights around 1,100 miles and has the capability of landing at smaller airports or airports where traditional jet aircraft may not be able to land.
This factory new aircraft is based in Phoenix, AZ and can easily depart from Phoenix Sky Harbor International Airport, Scottsdale Airport, Phoenix Deer Valley Airport, Chandler Municipal Airport, Glendale Municipal Airport, or Goodyear Airport as well as other airports in the Phoenix / Scottsdale Metropolitan Area.  The King Air 250 has optimal range for trips around the Southwest and Western U.S. including Southern California, Nevada (Las Vegas), New Mexico, Texas, as well as popular ski resort destinations in Colorado and Utah.  The King Air 250 is also a great aircraft for flights to resort destinations in Mexico and Baja California.
"Adding this King Air 250 to the Cutter Flight Management charter fleet provides increased capacity that our customers have been asking for" said Will Cutter, President and Chief Executive Officer of Cutter Aviation. Cutter Flight Management has been a leader in the Southwest for providing high quality regional and national air charter solutions for customers since 1928.
Cutter Flight Management is the air charter and aircraft management division of Cutter Aviation.  The current Cutter Flight Management fleet includes the Cessna Citation XLS+ medium executive jet, six Hawker Beechcraft 400A/400XP light executive jets, a Hawker Beechcraft King Air 200 medium executive turboprop, and this factory new Hawker Beechcraft King Air 250 executive turboprop.  Cutter Aviation has provided air charter services to businesses and clients in the Southwest for over 85 years. For more information, please visit http://www.cutterflightmanagement.com or call our 24/7 customer care line at 800-297-8524.
About Cutter Aviation
Founded in 1928 by William P. Cutter, Cutter Aviation is a full-service aviation company, offering aircraft fuel/line services, maintenance and avionics solutions, aircraft charter and aircraft sales and management. Cutter Aviation operates from eight major airports in five states within the Southwestern United States including: Arizona (Phoenix-Deer Valley and Phoenix-Sky Harbor), New Mexico (Albuquerque), Colorado (Colorado Springs), California (Carlsbad) and Texas (Dallas-McKinney, El Paso and San Antonio). The company is a member of the Pinnacle Air Network, National Business Aviation Association (NBAA), and the National Air Transportation Association (NATA). Cutter Aviation is the oldest continuously family-owned and operated FBO (Fixed Base Operator) in the United States with over 85 years of serving the General & Business Aviation industry. For more information about Cutter Aviation, please visit www.cutteraviation.com