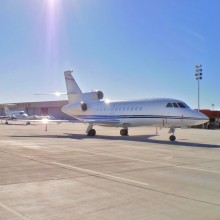 ALBUQUERQUE, NM. — Cutter Aviation is proud to announce the completion of the new concrete ramp at Cutter Aviation Albuquerque at Albuquerque International Sunport (ABQ). All ramp surfaces around the Cutter Aviation FBO / General Aviation terminal, aircraft maintenance facility, hangars and aircraft parking ramps were replaced in the construction effort. The opening of the ramp at Cutter Aviation marks the culmination of a year-long ramp improvement effort by the City of Albuquerque to replace the heavily aged ramp and aprons on all surfaces of the General Aviation complex on the Southwestern corner of the airport.
Open and ready for use now, the new concrete ramp will provide an enhanced level of safety in ramp operations at Cutter Aviation Albuquerque with a smooth, even taxiway and ramp surface on the transient ramp as well as all ramps providing access to hangars at the facility. The heavy-duty concrete construction is able to support all aircraft types from the smallest piston aircraft up to the heaviest airliner, cargo, and military class aircraft. As opposed to asphalt surfacing used at many airports around the country, the higher quality concrete surface has a longer lifespan and resists seasonal buckling in extreme hot and cold temperatures. The brighter concrete also reflects more light from overhead lighting than the darker asphalt for better visibility in night taxiing and towing operations on the ramp.
"We're glad to have a better ramp for our customers, both those based here at Albuquerque and those arriving to do business in the region" said Lowell Whitten, Vice President and General Manager of Cutter Aviation Albuquerque. "The first thing that our customers see and experience when they arrive in Albuquerque is the ramp, and we are proud to finally have one that matches the quality service we provide for them here at Cutter."
The ramp at Cutter Aviation Albuquerque can now accommodate all General Aviation arrival and departure operations including: Private and Corporate Aircraft operations, Air Medical and Critical Care flights, Air Cargo operations, transient Military flight operations, large Air Charter and Sports Charter flights, Emergency and Air Tanker operations, and General Aviation recreational and flight training operations. Cutter Aviation Albuquerque is open for arrivals and departures 24 hours a day, seven days a week and provides aircraft fuel service as a Phillips 66 Aviation Fuel dealer. For more information about Cutter Aviation at Albuquerque International Sunport, please visit http://www.cutteraviation.com/abq.
About Cutter Aviation
Celebrating 85 years of continuous family ownership and operation, Cutter Aviation has been the leader in the business of aviation in the Southwestern United States and beyond for over eight decades. As a full-service aviation company, Cutter Aviation provides customers a wide range of quality General Aviation services including fuel and line service support, new and pre-owned aircraft sales, aircraft maintenance, avionics design/installation/repair, aircraft management services, and aircraft charter through Cutter Flight Management, Inc. Cutter Aviation's convenient FBO & Service facilities in Arizona, Colorado, New Mexico, and Texas are known for providing exceptional customer service and amenities for domestic and international travelers of all types. Originally founded in 1928 in Albuquerque, New Mexico, Cutter Aviation remains the oldest continually family-owned and operated aviation services company in the United States and is a member of the Pinnacle Air Network. For more information, please visit http://www.cutteraviation.com.