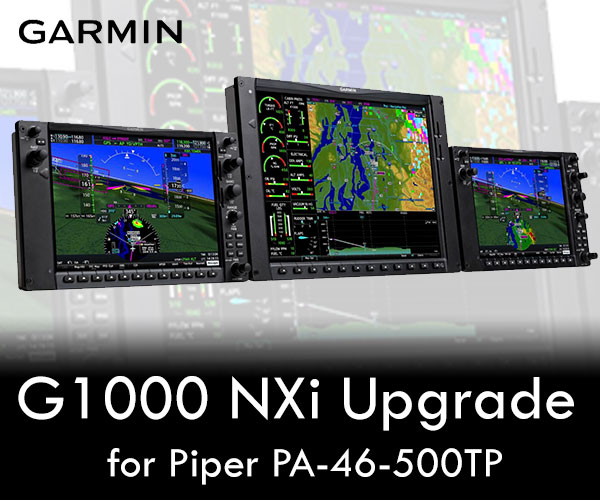 Cutter is pleased to announce that the Garmin G1000 NXi integrated flight deck, is now available for Piper PA-46-500TP.
GET YOUR G1000 NXi UPGRADE TODAY!
Order and schedule your upgrade before the end of the year and we will include the installation at no additional cost.*
Features
The G1000 NXi flight deck offers aircraft owners and operators an array of modern features, including wireless connectivity, SurfaceWatchTM runway monitoring technology, visual approach guidance, HSI map, and more. The displays and controller also preserve the same footprint and connectors so time to complete the G1000 NXi upgrade is minimized.
A wealth of modern integrated flight deck features and benefits accompany the G1000 NXi upgrade in the Piper Meridian. In addition to a new, faster processor and sharper display, wireless connectivity is available as standard with the Flight Stream 510. The Flight Stream 510 provides Connext® technology, enabling the wireless transfer of aviation databases from the Garmin PilotTM app on a mobile device to the G1000 NXi. Additional wireless capabilities include two-way flight plan transfer, GPS information, back-up attitude information and more between the G1000 NXi and the Garmin Pilot, FltPlan Go and ForeFlight Mobile applications.
Customers upgrading their Meridian to the G1000 NXi can also add the optional GMA 1360D Audio Panel, providing 3D Audio processing, which helps the pilots "locate" inputs coming into their headsets, Bluetooth® connectivity and "home theater" style sound.
*The Meridian NXi upgrade requires a Garmin GTX 345R ADS-B transponder installed in the #1 position and not included in the above pricing.
CALL TODAY TO SCHEDULE YOUR G1000 NXi UPGRADE INSTALLATION!