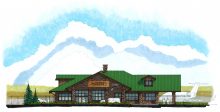 COLORADO SPRINGS, Colorado. – Cutter Aviation held a ground breaking ceremony today for its new FBO Executive Terminal at Colorado Springs Airport (KCOS). On hand for the groundbreaking were invited guests, airport officials and media. Joining Will Cutter, President & CEO, Steve Prieser, VP &CFO and Calvin Martin, GM from Cutter Aviation for the ceremony were Colorado Springs Mayor John Suthers and Airport Director Dan Gallagher along with Cutter's development partner Brad Henderson from Western LLC.
In August 2006, Cutter Aviation launched FBO operation at COS when it purchased the former FBO, Discount Fuels. As fuels sales and activity increased steadily over the years, Cutter began making plans to build a new facility and entered negotiations with the City of Colorado Springs to acquire additional land for development. Cutter recently completed the purchase of a large corporate aircraft storage hangar at the airport and also completed the construction of a new 62,000-gallon fuel farm. These recent projects and the new FBO terminal increase Cutter Aviation's FBO and office space to approximately 9,000 square feet, aircraft hangar storage space to 132,000 square feet, and more than doubles Cutter's leasehold to over 16 acres.
When you taxi up to the new FBO terminal, the mountain retreat architecture of Cutter's FBO serves as a visual indicator you have arrived in Colorado Springs and the Rocky Mountains. The new state-of-the-art facility was designed to accommodate the needs of the business aviation community well into the future and enables Cutter to expand amenities offered to our customers. "We are delighted to be underway with construction of our new FBO terminal in Colorado Springs," said Will Cutter. "Cutter looks forward to continuing to serve the users of Colorado Springs Municipal Airport with this new facility. The new FBO terminal, increased ramp space and new fuel farm gives us the ability to better serve our customers here at Colorado Springs."
About Cutter Aviation
Founded in 1928 by William P. Cutter, Cutter Aviation is a full-service aviation company, offering aircraft fuel/line services, maintenance and avionics solutions, aircraft charter and aircraft sales and management. Cutter Aviation operates from seven major airports in five states within the Southwestern United States including: Arizona (Phoenix-Deer Valley and Phoenix-Sky Harbor), New Mexico (Albuquerque), Colorado (Colorado Springs), California (Carlsbad) and Texas (Addison and San Antonio). The company is a member of the Pinnacle Air Network, National Business Aviation Association (NBAA), and the National Air Transportation Association (NATA). Cutter Aviation is the oldest continuously family-owned and operated FBO (Fixed Base Operator) in the United States with over 88 years of serving the General & Business Aviation industry. For more information about Cutter Aviation, please visit cutteraviation.com.
About Western LLC
Western LLC delivers nationwide turn-key real estate solutions. Western reduces risk and minimizes cost by handling all development phases in-house from concept to completion. To learn more, visit www.WesternLLC.net.