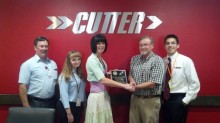 ALBUQUERQUE, New Mexico. – The Aviation Division of New Mexico State Department of Transportation recently presented the Safety Pin Award to Jessi Rowden, General Manager of Cutter Aviation, Albuquerque.
The award was presented in appreciation for support of the State of New Mexico in their safety, training and informational meetings, classes and seminars, which are frequently hosted at Cutter Aviation.
The New Mexico Aviation Division assembles and distributes to the public, information relating to aviation, landing fields, beacons and other matters pertaining to aviation. Conducts pilot seminars dealing with safety issues, publishes the New Mexico Aeronautical Chart and provides for the gathering and dissemination of information related to aviation safety, inspection, regulatory and compliance knowledge. The Division conducts inspections of New Mexico airports on behalf of the Federal Aviation Administration.