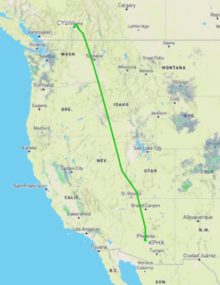 Phoenix, AZ — Cutter Aviation announced that one of their HondaJets set a new company record for a maximum performance leg on any light jet. The HondaJet departed Phoenix Sky Harbor Airport (KPHX) at 11:58AM MST on April 13th, 2020, landed in Kelowna, Canada (CYLW) at 15:37 PDT and returned to Phoenix Sky Harbor on the same day at 18:54PM MST. The flight stretched across 2,437 miles (2,118nm) in just 6 hours and 18 minutes of flight or 6 hours 56 minutes of total round-trip travel.
Cutter Aviation is now the largest fleet operator of HondaJets in the continental United States with seven in operation. Five of these are available for hire to suit your private travel needs through their website, cutteraviation.com. The HondaJet platform has proven itself as great addition to Cutter's Charter fleet with a perfectly executed balance of aesthetics, engineering and performance for Cutter's private-jet-traveling client base.
The HondaJet has repeatedly proven its robust operating envelope in addition to its great looks thanks to its design innovations like the Over-The-Wing Engine Mounts when compared to other light jets. HondaJet Southwest has sold more new and pre-owned HondaJets than any other dealer in the network. For more information about the HondaJet, contact Shelbey Hooker at 602-267-4035.
The HondaJet is the world's most advanced light jet, and its distinctive design incorporates advanced technologies and concepts. The HondaJet patented Over-The-Wing Engine Mount configuration, natural laminar flow wing and fuselage nose, and composite fuselage were developed from long-term research activities.
The aircraft that completed the trip to CYLW is a version of the HondaJet with the Aircraft Performance Modification Group (APMG) package giving it similar aerodynamic characteristics to the HondaJet Elite. Cutter Aviation is an Authorized Service Center for completing APMG package installations on HondaJets.