Feature rich retrofit flight deck for King Air series aircraft at a guaranteed fly-away price
VISTA, CA, November 16, 2015 – Sandel Avionics, Inc. introduces Sandel Avilon™, a retrofit flight deck serving King Air owners. Avilon is intended to redefine how modern cockpit avionics are designed, built, sold, and installed. Avilon offers commercial, corporate fleet, and owner-operated King Airs a highly advanced solution at a fly-away price.
Designed from the ground up to enhance safety, affordability, and installation efficiency, Avilon arrives assembled from the factory as an integrated panel replacement.
"From the company's inception Sandel has a history of introducing groundbreaking technologies that defy industry conventions," said Gerry Block, President and CEO of Sandel Avionics. "Avilon continues that tradition by filling the need for an advanced turboprop flight deck retrofit solution that makes sense."
Almost a decade ago, the Sandel team realized the enormous navigation possibilities inherent in what was later called NextGen. Far beyond ADS-B and its free traffic and weather, the NextGen system provides Performance Based Navigation (PBN) capabilities that allow properly equipped aircraft to fly more closely spaced, with special ATC routing through even the most congested areas. Sandel has integrated PBN capabilities into the architecture of Avilon to increase mission efficiencies as this new ATC system is rolled out.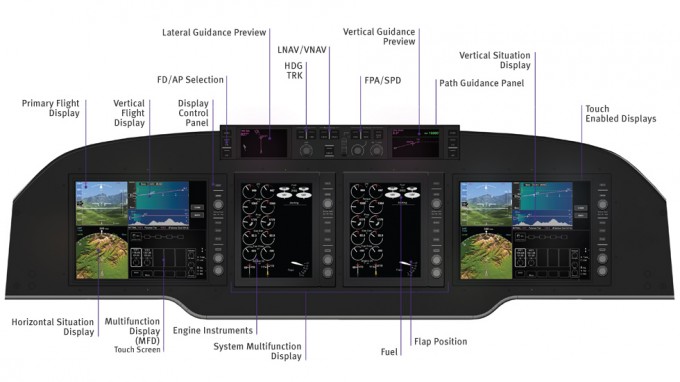 Avilon includes all the components of a NextGen flight deck, including radios, Flight Management Computer (FMC), sophisticated audio control, ADS-B capable Mode S transponder, and high performance flight director / autopilot. Information is displayed to the pilot in a succinct, clean, uncluttered easy-to-consume format, and highlights the data that is most relevant to the current phase of flight.
Safety is a primary emphasis. The patent-pending Avilon Path Guidance Panel, which integrates tactical aircraft control with the FMC, provides a continuous displayed path, making single-pilot operations in particular safer and less stressful.
Because Avilon™ is delivered assembled, it eliminates the complex and time consuming task of building custom wire harnesses, racks and assemblies. Virtually all legacy avionics and associated wiring are completely removed from the aircraft, allowing installation centers a clean replacement of the old panel.
Simplification allows installations to be scheduled in a fraction of the expected time, making Avilon the most efficient, affordable and capable retrofit flight deck ever conceived.
Avilon for the 200 series King Air line will begin shipping in June 2016. Available through your certified dealer, Cutter Aviation.
About Sandel Avionics Inc.
Located in Vista, California, Sandel is a privately held company managed by an independent board of directors, with the stated business purpose of enhancing the safety and capabilities of pilots and their aircraft. To learn more about Sandel and its products, please go to www.sandel.com/avilon.