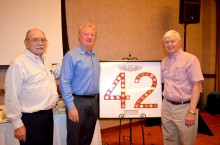 ALBUQUERQUE, New Mexico. – Lowell Whitten, Vice President and General Manager for Albuquerque operations retired from Cutter Aviation after 42 years of service to the company.
Whitten started his aviation career in the U.S. Air Force and during his enlistment spent a year in Vietnam serving as a Crew Chief on a F100D Super Sabre. His service in Southeast Asia was highlighted by an award of the Air Force Commendation medal for his efforts in the successful launch and recovery of more than 2000 sorties by his unit. After returning from Vietnam he served as a Crew Chief on the SR-71 Blackbird.
Whitten went to work for the Kirtland Aero Club, Sandia Aviation and ultimately Cutter Flying Service in April of 1972 as an A&P mechanic. He went on to obtain his Inspectors Authorization License and became the Shop Forman and Chief Inspector for the Cutter Aviation Repair Station. Whitten was promoted to the position of Service Manager and spent the next 15 years leading that department. In 1982 the Beechcraft Factory Management named him the "Beechcraft Service Manager of the Year".
In 1984 he was promoted to Vice President and General Manager Cutter Aviation Albuquerque operations. Whitten is a member of The Executive Association of Greater Albuquerque and has served on the Board of Directors as their Treasurer. He is also a member of the Board of Directors for the New Mexico Aviation and Aerospace Association, as well as being a member of the Aviation Maintenance Technicians Society.
Whitten continues to be an active member of the aviation community. He was instrumental in New Mexico's new law which exempts aircraft parts and labor from the state's gross receipts sales tax.