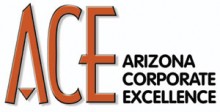 Cutter Aviation honored as one of the Top 50 at Phoenix Business Journal's 20th Annual ACE Awards in Arizona.
PHOENIX, Arizona. – Cutter Aviation, the oldest continually family-owned and operated FBO in the United States, has received two Arizona Corporate Excellence awards, ACE 2014. Cutter Aviation has been recognized among the Top 50 Arizona's largest private companies and also as one of the fastest growing companies in Arizona. The top 50 list, is compiled each year by the Phoenix Business Journal. Arizona Corporate Excellence (ACE) Awards selects winners on the basis of revenue, innovation and community impact.
"It takes a professional crew to keep an aviation company flying high and growing for more than 86 years," said Will Cutter, President and CEO. "This accomplishment is possible thanks to our wonderful team. Without our enthusiastic and energetic employees, none of this would be possible."
About 300 business leaders gathered to honor all the recipients at the Scottsdale Center for the Performing Arts on Sept. 18 for the event.