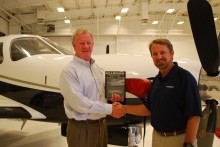 PHOENIX, AZ – Cutter Aviation has received the 2013 Platinum Award for achieving excellent sales performance among Garmin International distributors. Cutter Aviation has received similar awards from Garmin over the past four years, always ranking among the top distributors for Garmin aviation products worldwide. Mike Young, Southwest Aviation Sales Manager for Garmin, presented the award to Will Cutter at Cutter Aviation's headquarters in Phoenix, AZ.
"The 2013 Garmin Platinum award was driven in part to our success in completing numerous Garmin G-950 installations on Piper Meridian aircraft," said Will Cutter, President and CEO of Cutter Aviation. In partnership with Garmin, Cutter Aviation Avionics in Phoenix, AZ developed the Supplemental Type Certificate (STC) and custom fabrication and installation of the all-glass G950 upgrade solution specifically for older model (pre-2009) Piper Meridians.
Other Garmin installation projects that Cutter has just recently completed include Dual GTN 750 upgrade to a Citation CJ2.
For more information on Garmin aviation products, contact Cutter Aviation at 602-267-4070.