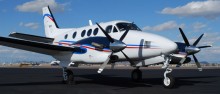 PHOENIX, AZ — Hawker Beechcraft and Cutter Aviation today announced the rekindling of a relationship spanning over six-decades as Cutter Aviation's Phoenix Arizona facility (KPHX) is appointed an Authorized Service Center (ASC) for the Baron, Bonanza and King Air lines of aircraft. Additionally, Hawker Beechcraft is adding the King Air line of aircraft to service authorizations for Cutter Aviation's Albuquerque New Mexico service facility (KABQ). Cutter Aviation's McKinney Texas service facility (KTKI) remains an ASC for the Piston line of Hawker Beechcraft aircraft. Effective immediately, Cutter's Phoenix and Albuquerque service centers are able to perform factory authorized scheduled and unscheduled warranty services for the Piston and King Air lines of aircraft.
Cutter Aviation in Albuquerque was originally appointed a Beech dealer and service center in 1946 and expanded the relationship to Cutter Aviation in Phoenix in the late 1950s, making Cutter Aviation Hawker Beechcraft's oldest Authorized Service Center. For over six decades, the Cutter service organization has led the industry in Beechcraft maintenance knowledge and customer service. Cutter is also a dealer and factory authorized service facility for GARMIN, Collins Avionics, Honeywell Avionics, Pratt & Whitney, Williams International, Raisbeck Engineering, and Blackhawk Modifications, allowing Cutter Aviation to provide tip to tail maintenance services for the technologically advanced recent model year aircraft as well as older generation aircraft.
Will Cutter, President of Cutter Aviation noted, "The entire team at Cutter Aviation is thrilled to once again be the Authorized Service Center at our Phoenix location for Hawker Beechcraft. Generations of Cutter family and team members have taken care of generations of Beech aircraft owners and operators at our Phoenix location, and it is fitting that, as Hawker Beechcraft embarks upon their new and restructured operation, their newest Authorized Service Center appointment is also their longest-standing partner." Cutter further said, "My grandfather signed our first Beech service center agreement with Walter Beech in 1946, and I'm honored to be able to continue that legacy and partnership with the newly reorganized Hawker Beechcraft".
Cutter Aviation boasts 48 factory trained aircraft, powerplant, & avionics technicians with over 600 years of cumulative Beechcraft expertise and over 91,500 sq ft of facilities dedicated to providing the preeminent level of customer service for which Beechcraft is known. For more information, Hawker Beechcraft aircraft owners and operators can contact the Cutter Aviation PHX 602-267-4070, Cutter Aviation ABQ at 505-842-4184, Cutter Aviation TKI at 214-842-6200. More information is available online at www.cutteraviation.com.
About Cutter Aviation
Celebrating 85 years of family ownership and operation, Cutter Aviation has been the leader in the business of aviation in the Southwestern United States and beyond for over eight decades. As a full-service aviation company, Cutter Aviation provides customers a wide range of quality General Aviation services including: fuel and line service support, new and pre-owned aircraft sales, aircraft maintenance, avionics design/installation/repair, aircraft management services, and aircraft charter through Cutter Flight Management, Inc. Cutter Aviation's convenient FBO & Service facilities in Arizona, Colorado, New Mexico, and Texas are known for providing exceptional customer service and amenities for domestic and international travelers of all types. Originally founded in 1928 in Albuquerque, New Mexico, Cutter Aviation remains the oldest continually family-owned and operated aviation services company in the United States and is a member of the Pinnacle Air Network. For more information, please visit http://www.cutteraviation.com.