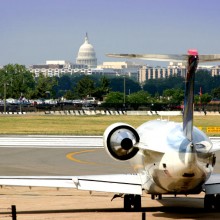 PHOENIX, ARIZONA — To better serve the needs of the Business Aviation industry in the Southwest, Cutter Aviation is pleased to announce the approval of FBO facilities within its network as Gateway FBOs to Ronald Reagan Washington National Airport (DCA) through the DCA Access Standard Security Program (DASSP) managed by the Transportation Security Administration.
As of June 20, 2012, four Cutter Aviation facilities throughout the Southwest have been granted DCA Gateway FBO status. In Arizona, Cutter Aviation at Phoenix Sky Harbor International Airport (PHX) and Phoenix Deer Valley Airport (DVT) are two of the three approved Gateway FBOs serving the state.  Cutter Aviation at Colorado Springs Airport (COS) is the sole Gateway FBO serving the city and home of the United States Air Force Academy. Cutter Aviation at Albuquerque International Sunport (ABQ) is the sole Gateway FBO serving the entire state of New Mexico. Cutter Aviation at El Paso International Airport (ELP) is currently in the process of TSA approval to become a DCA Gateway facility and is anticipated to be authorized later this summer.
Additionally, Cutter Flight Management, Inc. has obtained authorization as a TSA approved operator for on-demand air charter flights into Reagan Washington National Airport through any DCA Access Gateway facility.
Since the events of September 11, 2001, the TSA has restricted aircraft arrivals into DCA due to its close proximity to the nation's capital. To receive DCA Access authorization, FBO facilities and air charter operators must meet the strict security requirements and procedures outlined by the TSA.  As of June 2012, fewer than 120 general aviation support facilities have been approved as DCA Gateway locations throughout the United States.
"General Aviation operators require the highest levels of convenience, safety and security at all times — it's what sets GA apart from commercial airlines" said Steve Prieser, Vice President & CFO, Cutter Aviation.  "With DCA Access to Reagan Washington National through our FBOs and Air Charter department, Cutter Aviation has made General Aviation operations easier for our customers."
Located just three miles from downtown Washington D.C., Reagan Washington National Airport offers unparalleled convenience for travelers flying to and from the nation's capital. Reagan Washington National Airport's location is also beneficial for simple access to the Beltway / Northern Virginia industrial corridor.
About Cutter Aviation
For over 84 years, Cutter Aviation has been Leading the Business of Aviation. Cutter Aviation provides high-quality general aviation fuel and line service support, new and pre-owned aircraft sales, aircraft maintenance, avionics design/installation/repair, aircraft management services, and aircraft charter through Cutter Flight Management, Inc.  Cutter Aviation's convenient FBO & Service facilities in Arizona, Colorado, New Mexico, and Texas are known for providing exceptional customer service and amenities for domestic and international travelers of all types. Founded in 1928, Cutter Aviation is the oldest continually family-owned and operated aviation services company in the United States and is a member of the Pinnacle Air Network. For more information, please visit http://www.cutteraviation.com.