Cutter TBM Service
Your South Central US TBM Service Center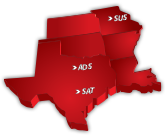 Cutter Aviation is your Authorized Service Center for Daher TBM in the South Central United States including: Texas, Oklahoma, Kansas, Missouri, Arkansas, and Louisiana.
Cutter TBM Service Center is a division of Cutter Aviation, one of the most recognized names in General Aviation throughout the Southwest. Originally founded in 1928, Cutter Aviation has developed a tradition of honest, friendly, and helpful "family-like" relationships with our customers for decades. We continue that tradition each day with Cutter TBM Service Centers.
Our convenient Service Center locations in San Antonio, TX; Addison, TX (DFW Area); and St. Louis, MO means that you're never far from sales or service assistance with Cutter TBM Service Centers. Visit our Office in San Antonio or contact us today at 210-485-1257!