The History of Cutter Aviation & Cutter Flying Service
A Story of America's Oldest Continually Family Owned & Operated FBO Network
The story of Cutter Aviation follows the story of the birth of modern General Aviation in many ways. Before the passage of the Air Commerce Act of 1926, most aviation activity in the United States was completely unregulated and lacked standards for pilot licensing, aerial navigation and airspace, aircraft registration, aviation businesses and air charter operators — and as a result safety and consumer protection in any aviation activity was at an all time low. After the passage of the Air Commerce Act, legitimate aviation businesses started to take shape nationwide — with official licensing to do business at an airport or operate aircraft. In fact, the term used to describe an aviation business serving General Aviation at an airport… a "Fixed Base Operator" or "FBO" comes from that original 1926 act.
Considering Cutter Aviation (or Cutter Flying Service as it was known originally) started doing business only two years after the passage of the Air Commerce Act, our history parallels the dynamic history of General Aviation in America through today.
In the Beginning
Cutter Flying Service Inc. was founded in 1928 by William P. Cutter to serve a fledgling aviation community in the Southwestern United States from its birthplace in Albuquerque, NM. Cutter Flying Service survived the Great Depression and World War II by providing needed air charter to reach ranches, towns and businesses scattered across the rugged landscape of New Mexico, Arizona and Texas. In addition, Cutter Flying Service offered aircraft sales, line and fuel services to transient pilots as a Phillips 66 Aviation fuel dealer beginning in 1938, and aircraft maintenance to support the growing number of aircraft in the Southwest.
Cutter During World War II
At the outbreak of World War II, when much of General Aviation and the businesses that supported it came to a halt, Cutter Flying Service became a pilot training provider for the United States military to stay in business from 1941 to 1945. In addition to basic flight training, many pilots were trained for glider operations, and the U.S. Navy designated Cutter as a Naval Air Training School as part of the Civilian Pilot Training Program (CPTP) at its primary business location at West Mesa Airport in Albuquerque.
Post-War Growth for Cutter
As American life returned to a state of normalcy after the end of the war, so did Cutter Flying Service. A growing business, reflecting the trend of prosperity that was being enjoyed by most of America in the post-war years, Cutter began a long-standing affiliation with the Beechcraft Aircraft Corporation in 1947 and remained one of the most successful dealers of new Beechcraft Aircraft for over 62 years. Along with aircraft sales, Cutter became widely known for aircraft maintenance service supporting Beechcraft as well as many other General Aviation aircraft being built during this time, and continued to offer fuel service and operate on-demand air charter. Cutter moved to the larger Albuquerque International Sunport in 1947 as activity at West Mesa Airport began to decline, but continued to offer refueling from West Mesa until the late 1950's.
Expanding the Cutter Aviation Network
Expanding West, Cutter Aviation, Inc. located at Phoenix Sky Harbor International Airport, first opened its doors in 1959 and offered aircraft sales, maintenance and charter to support the growing city of Phoenix. In 1988, Cutter Aviation opened a brand-new FBO facility on the South Side of Phoenix Sky Harbor International Airport and consolidated its aircraft sales, maintenance, and charter to the new facility and started providing fuel and line service. The new facility became the company headquarters for Cutter Aviation as well, though the Albuquerque location remained a full-service facility.
Establishing a second Phoenix facility in 1997, Cutter Aviation opened its Deer Valley Airport location in 1997 to support the quickly growing General Aviation airport in North Phoenix. A year later, Cutter Aviation San Antonio, an aircraft maintenance and sales facility, opened in 1998, the Dallas-Addison (ADS) and Colorado Springs (COS) locations opened in 2006 and the Denver (APA) Pilatus Sales & Service Center location opened in 2018. Aircraft Sales has always been a core part of the business and as a result, Cutter Aircraft Sales has grown and added new dealerships as the company has grown. In 2004 Cutter Aviation became the dealer for new Piper Aircraft for the state of Texas under the Texas Piper name. The Cutter Aviation network currently operates nine locations in eight major cities in the Southwest. The Phoenix Sky Harbor, AZ (PHX), Phoenix Deer Valley, AZ (DVT); Albuquerque, NM (ABQ); and Colorado Springs, CO (COS) facilities are full-service, fixed-base operations as well as aircraft sales, maintenance and avionics, and aircraft charter and management. The San Antonio, TX (SAT); Dallas-Addison, TX (ADS) and Denver, CO (APA) facilities offer new & pre-owned aircraft sales and aircraft maintenance services and aircraft sales offices in Carlsbad, CA and Santa Ana, CA.
Cutter Aviation is a member of the Pinnacle Air Network, National Business Aviation Association (NBAA), and the National Air Transportation Association (NATA).
Cutter Aviation Historic Image Archive
A selection of photos from the history of Cutter Aviation and Cutter Flying Service from 1928 through today. Please click on a thumbnail for a larger image.
Cutter Aviation Today
What Makes Cutter Aviation Unique in the General & Business Aviation Industry
Cutter Aviation is one of America's strongest FBO & Aviation Service providers for the Business & General Aviation industry. Our strength comes from a combination of our experience and more than nine-decade history serving the industry and our diversity of services, products, and locations in support of a wide range of customers: from the smallest single-engine piston aircraft through large airline-class aircraft… civilian and military. This combination has established Cutter Aviation as one of the most respected FBO brands in aviation today.
Where some companies may only offer a limited number of services to customers, Cutter Aviation believes more in providing a complete package of services and products that best serve the needs of a wide range of customers. Cutter Aviation offers high-quality aviation fueling and professionally trained line service at nine locations around the Southwest and complements it with attentive guest services representatives to assist passengers and crews alike. Supporting guest services is Cutter Aviation's unique full-service professional travel agency that is available to assist in any way with pleasure or business travel for any customer. four Cutter Aviation locations operate full-service, FAA Certified Repair Stations for aircraft maintenance and avionics service, sales, and support. Cutter Aviation is also a trusted name in both new and pre-owned aircraft sales with regional aircraft sales advisers covering the Southwest and beyond. To assist after the sale, Cutter Aviation's dedicated aircraft management team paired with Cutter Flight Management, the on-demand air charter division of Cutter Aviation, helps owners and businesses develop sound operational strategies to operate their aircraft in the most effective manner. Additionally, Cutter Flight Management Air Charter provides on-demand air charter to a wide variety of locations for customers using the highest quality aircraft ranging from twin-engine turboprop aircraft through medium and large jet aircraft — all staffed and flown by highly trained professional flight crews.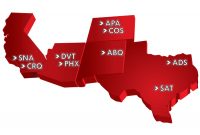 Cutter Aviation locations are strategically located around the Southwest in growing and established metropolitan areas where general aviation provides a crucial transportation link for businesses and individuals requiring the efficiency of private air travel without the hassles of operations from congested or high-cost facilities that may be found in the same region. By providing the absolute best service for the best value, Cutter Aviation leads the way.
"The key ingredients are Tradition, Respect, and Integrity" quotes Cutter Aviation President & CEO Will Cutter. "It is a formula that has kept us at the forefront of the industry for more than ninety years. They have helped us establish a reputation that we are all proud of, and without them, Cutter Aviation would be just another run-of-the-mill service station for airplanes."