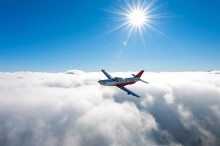 Washington, D.C. – DAHER-SOCATA announced on February 12, 2012, that 38 TBM 850s were delivered in 2012 – representing the fourth best year for the company's TBM aircraft family since 1990, and underscoring the very fast turboprop's continued value in an evolving global market.
The 2012 deliveries bring to 622 units the total number of aircraft received by customers, of which 298 are TBM 850 – the latest version of DAHERSOCATA's very fast turboprop aircraft family.
According to General Aviation Manufacturers Association (GAMA) year-end shipment and billings figures – which were released today in Washington, D.C. – the 38 TBM 850 deliveries last year represented an 18 percent share
of its market segment. This reflects an increased market share when compared to the competitors.
The majority of TBM 850s purchased in 2012 were acquired by U.S. customers (66 percent). Canada ranked second, with 13 percent, followed by Brazil and Germany's eight percent of the 2012 sales. One sale was achieved in the U.K. last year, where the market is showing signs of recovery, while Thailand joined the club of TBM countries with a contract for its first TBM 850 in June.
"The TBM 850 sales success confirms our very fast turboprop's position as the keystone of DAHER-SOCATA's strategy," explained Stephane Mayer, Chairman and CEO of DAHER-SOCATA – the aerospace and defense activity of the DAHER Group. "This also supports our Group's current strategy to invest in research and development to support our products and our long-term growth."
Nicolas Chabbert, the Senior Vice President of DAHER-SOCATA's Airplane Division, said the availability of its TBM 850 Elite version – which was certified in July – boosted sales during the second half of 2012. "Efficiency and value remain the competitive advantages of turboprop aircraft, as demonstrated by the TBM 850's continued sales successes," Chabbert added. "This explains the resilience of turboprop aircraft at a time when very light jets are competing in the marketplace."
Building on its commercial momentum, DAHER-SOCATA is offering the Model Year 2013 TBM 850 "Elite" with a host of benefits, including the highly extended Exclusive Maintenance Program – which lowers scheduled maintenance costs for five years or 1,000 hours – and the GSR 56 Iridium based satellite telephone system.
DAHER-SOCATA's TBM 850 is the world's fastest single turboprop aircraft, with a maximum cruising speed of 320 KTAS at Flight Level 260 (in ISA conditions). It combines cruising speed and trip times of a light jet with the
economic direct operating costs, range and moderate environmental signature of a turboprop engine. The maximum range and useful load – which are enhanced on the current version – and the ability to land at small airports are some of its customers' favorite features.
The worldwide TBM fleet – composed of the TBM 850 and its predecessor TBM 700 version – has surpassed the combined 1 million flight hour milestone. With more than 620 of these very fast turboprop business aircraft
produced to date, the overall fleet usage now averages in excess of 120,000 flight hours annually.
About DAHER – www.daher.com
DAHER is a tier-1 equipment supplier to high-technology industries. An independent intermediate-sized company, DAHER deploys its integrated equipment and services supplier model across the Aerospace & Defence, Nuclear & Energy and Capital Goods Industries sectors, and its growth is centred on complementary sets of expertise (design and manufacturing & integrated industrial support), combined into a comprehensive global offering. With a robust engineering-based approach, DAHER is able to deliver innovative and differentiating solutions to its industrial customers. Created in 1863, DAHER is an international group, employing 7,500 men and women in 14 countries across the world.
DAHER generates a turnover of 900 million euros (1.1 billion dollars), with an order book which stood at 2,580 millions euros at 31/12/2011, corresponding to around 3 years of turnover.
For more information, visit www.daher.com and www.tbm850.com