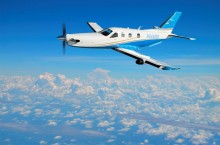 A host of benefits are incorporated in this latest version of the company's very fast turboprop business aircraft
Pembroke Pines, Florida, February 25, 2013 – DAHER-SOCATA's Model Year 2013 version of its TBM 850 Elite was unveiled last friday at Florida's Boca Raton Airport for customers in the United States – which remains one of the primary markets for this very fast turboprop business aircraft.
Compared to last year's model, a cockpit enhancement is the integration of L-3 Avionics' Trilogy™ ESI-2000 Electronic Standby Instrument (ESI), which replaces the previous electro-mechanical instrument version. As the first solid-state integrated standby system specifically created for general aviation, the advanced solid-state Trilogy™ ESI-2000 has an internal battery and easy-to-read 4 X 3-inch active matrix liquid crystal display. "Based on the tremendous customer interest in the TBM 850 Elite – which debuted last year – we are continuing its production in 2013," explained Nicolas Chabbert, Senior Vice President of DAHER-SOCATA's Airplane Division and President of SOCATA North America. "For this year, we have made further improvements inside and out, along with enhancements to the aircraft's comprehensive maintenance program." The Model Year 2013 TBM 850's Elite offering of interior colors has been extended with the choice of Moccha dark brown leather, as well as a medium grey, referred to as River Stone. In addition, the aircraft's seat backs are now perforated to improve comfort on hot days.
DAHER-SOCATA also offers a special package for its Model Year 2013 that features a host of benefits such as a deluxe leather interior with a storage cabinet, wooden or carbon-fiber fittings and 14-Volt DC power plugs. This includes also DAHER-SOCATA's Highly Extended Exclusive Maintenance Program, which lowers scheduled maintenance costs for five years or 1,000 hours. In 2013, this program is completed by the CAMP maintenance tracking system, which enables the owner to easily follow its maintenance.
Additional safety options in this year's Elite package are a GPS-linked emergency locator transmitter, and a pulsed light system that alternately flashes the landing, taxi and recognition lights 45 times-per-minute to increase the aircraft's visibility. DAHER-SOCATA developed the TBM 850 Elite to offer unique capability in tailoring the passenger cabin in meeting operators' needs. Its middle seats can be oriented in a forward-facing position, while the rear seats are removable. In approximately 30 minutes, the TBM 850 can be reconfigured in a four-seat cabin, increasing the luggage volume capacity by three and doubling the maximum luggage weight. Primary technical changes in the TBM 850 Elite are the new intermediate seats, whose base is narrower; and a forward shift in positioning of the passenger oxygen system, which enables passengers to be assisted in both the cabin's six- and fourseat configurations.
Popular options in this package include a full avionics suite with Garmin's Synthetic Vision System dynamic terrain imaging, Chartview electronic chart database, and the GSR 56 Iridium satellite datalink transceiver for global connectivity – providing on-demand weather information, text/voice communications and near real-time position tracking.
DAHER-SOCATA's TBM 850 is the world's fastest single turboprop aircraft, with a maximum cruising speed of 320 KTAS at Flight Level 260 (in ISA conditions). It combines cruising speed and trip times of a light jet with the economic direct operating costs, range and moderate environmental signature of a turboprop engine. The maximum range and useful load – which are enhanced on the current version – as well as the ability to land at small airports are some of its customers' favorite features.
About DAHER
DAHER is a tier-1 equipment supplier to high-technology industries. An independent intermediate-sized company, DAHER deploys its integrated equipment and services supplier model across the aerospace & defense, nuclear & energy and capital goods industries sectors, and its growth is centered on complementary sets of expertise (design and manufacturing & integrated industrial support), combined into a comprehensive global offering. With a robust engineering-based approach, DAHER is able to deliver innovative and differentiating solutions to its industrial customers.
Created in 1863, DAHER is an international group, employing 7,500 men and women in 14 countries across the world. DAHER generates a turnover of 900 million euros (1.1 billion dollars), with an order book which stood at 2,580 million euros at 31/12/2011, corresponding to around 3 years of turnover.
For more information, visit www.daher.com and www.tbm850.com
---
About Cutter Aviation
Celebrating 85 years of family ownership and operation, Cutter Aviation has been the leader in the business of aviation in the Southwestern United States and beyond for over eight decades. As a full-service aviation company, Cutter Aviation provides customers a wide range of quality General Aviation services including: fuel and line service support, new and pre-owned aircraft sales, aircraft maintenance, avionics design/installation/repair, aircraft management services, and aircraft charter through Cutter Flight Management, Inc. Cutter Aviation's convenient FBO & Service facilities in Arizona, Colorado, New Mexico, and Texas are known for providing exceptional customer service and amenities for domestic and international travelers of all types. Originally founded in 1928 in Albuquerque, New Mexico, Cutter Aviation remains the oldest continually family-owned and operated aviation services company in the United States and is a member of the Pinnacle Air Network. For more information, please visit http://www.cutteraviation.com.