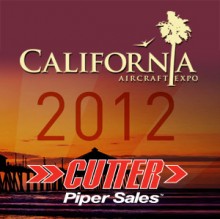 California's leading aircraft manufacturers and dealers are working together to sponsor the California Aircraft Expo where the latest models of General Aviation aircraft will be on display at one venue. Three separate events are scheduled to take place in 2012 where prospective buyers can see the newest aircraft from Cessna, Piper Aircraft, Hawker Beechcraft, Diamond, Husky, Pilatus, Lancair, Cirrus and more.
Cutter Piper Sales of Southern California will be displaying the latest from Piper Aircraft, including models of the popular M-Class Family: the turbine power of the Piper Meridian, the pressurized & turbocharged comfort of the Piper Mirage, and the capacity, speed and value of the Piper Matrix.  Phil Scharber and Alex Kuzmanovic from our Southern California sales team will be on hand to demonstrate the new 2012 features of the aircraft and discuss with you how a new Piper Aircraft is one of the smartest flying decisions in 2012.
The California Aircraft Expo events are free to all current and prospective pilots and aircraft owners.  In addition to the aircraft display, the California Aircraft Expo events also incorporate the ownership services you may need in acquiring your aircraft with representatives from AirFleet Capital, Aviation Tax Consultants and Wings Insurance on hand to help you learn more!
The California Aircraft Expo will be at the following venues in 2012:
Saturday, August 18th, 2012
John Wayne / Orange County Airport (KSNA)
Lyon Air Museum
19300 Ike Jones Road
Santa Ana, CA 92707
10:00am-4:00pm
Saturday, November 3rd, 2012
McClellan Palomar / Carlsbad Airport (KCRQ)
Jet Source
2056 Palomar Airport Road
Carlsbad, CA 92011
10:00am-4:00pm
Saturday, December 1st, 2012
Long Beach Airport (KLGB)
Pacific Air Center
2845 E. Spring Street
Long Beach, CA 90806
10:00am-4:00pm
Please register to attend any of the California Aircraft Expo events at the Registration Form at http://www.californiaaircraftexpo.com/2012/registration/
For more information about any of the events, please contact either Phil Scharber or Alex Kuzmanovic at Cutter Piper Sales – they are happy to assist in any way!  You may also visit the California Aircraft Expo website at http://www.CAAircraftExpo.com or visit the California Aircraft Expo Facebook page at: http://www.facebook.com/california.aircraft.expo