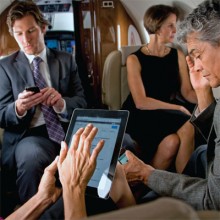 PHOENIX, ARIZONA — Cutter Aviation is proud to announce the completion of the first Supplemental Type Certificate (STC) for in-flight, high-speed wireless connectivity for the Beechjet 400A and Hawker 400XP family for Aircell Gogo Biz in-flight broadband. Cutter Aviation avionics engineers in Phoenix, AZ developed the STC in partnership with Aircell, a leader in in-flight connectivity solutions, utilizing the Aircell ATG 4000 and ATG 5000 systems for installation in the Beechjet airframe. The STC was awarded on December 19, 2011 after nearly a year of development and is now available for purchase and installation on all Beechjet 400A and Hawker 400XP light business jet aircraft.
"In-flight wireless internet access is no longer just an 'extra' for business aviation aircraft… it has become a requirement for peak in-flight productivity in the digital age" said the Director of R&D for Aircraft Avionics and Services at Cutter Aviation. "Beechjet and Hawker 400XP operators have been waiting for a light, cost-effective in-flight WiFi solution for their aircraft and Cutter Aviation stepped up to meet their needs with the Aircell STC package."
With the Aircell in-flight WiFi STC by Cutter Aviation, Beechjet operators may now enjoy Internet access in the air just like what they find at home, in the office, or at public "hotspots" like their local coffee shop.  Laptops, tablets and smartphones connect in-flight with ease just like a normal WiFi connection. In-flight users connect at speeds up to 3.1 megabites per second (mbps) and network coverage extends nationwide. Unlike the heavy and expensive equipment used in many first-generation in-flight phone and internet systems found on other aircraft, the equipment and antennas developed by Aircell are light and compact enough for easy installation on a light jet like the Beechjet and more affordable than ever.
Various monthly data packages through the Aircell Gogo Biz provide internet access for a wide range of budgets, from basic connectivity through unlimited data plans.
With more than 10,000 systems shipped worldwide, Aircell is the undisputed leader in global airborne communications. Already flying on thousands of aircraft, Aircell's voice, data and broadband systems are the choice of every major business aircraft manufacturer as well as the world's largest airlines. Cutter Aviation is proud to be a dealer for Aircell throughout the Southwestern United States and a developer of new STC solutions using Aircell technology.
For more information on Aircell In-Flight WiFi systems on the Beechjet 400A and Hawker 400XP by Cutter Aviation, please visit http://www.cutteraviation.com/BeechjetWiFi or contact Cutter Aviation Avionics at Phoenix Sky Harbor International Airport (PHX) at 602-267-4070.
About Cutter Aviation
Founded in 1928 by William P. Cutter, Cutter Aviation is a full-service aviation company, offering aircraft fuel/line services, maintenance and avionics solutions, aircraft charter and aircraft sales and management. Cutter Aviation operates from eight major airports in five states within the Southwestern United States including: Arizona (Phoenix-Deer Valley and Phoenix-Sky Harbor), New Mexico (Albuquerque), Colorado (Colorado Springs), California (Carlsbad) and Texas (Dallas-McKinney, El Paso and San Antonio). The company is a member of the Pinnacle Air Network, National Business Aviation Association (NBAA), and the National Air Transportation Association (NATA). Cutter Aviation is the oldest continuously family-owned and operated FBO (Fixed Base Operator) in the United States with over 83 years of serving the General & Business Aviation industry. For more information about Cutter Aviation, please visit www.cutteraviation.com