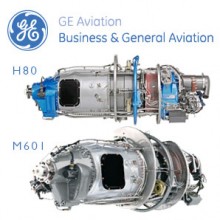 Via GE Aviation – Cutter Aviation has signed an agreement with GE Aviation to become an Authorized Service Center for GE's M601 and H80 turboprop engines.  The agreement between Cutter Aviation and GE Aviation was made final during the 2011 NBAA Convention in Las Vegas, NV.
As part of the agreement, Cutter Aviation will offer comprehensive line maintenance, removals and re-installations of engines and line-replaceable units (LRUs) and engine spares for the M601 and H80 engine families. These engine services will be provided at five Cutter Aviation locations that currently offer aircraft maintenance & service: Albuquerque, NM (ABQ); Dallas – McKinney, TX (TKI); Phoenix – Deer Valley, AZ (DVT); Phoenix-Sky Harbor, AZ (PHX); and San Antonio, TX (SAT). GE Aviation will provide Cutter Aviation with comprehensive material support and training.
"GE is excited to work with Cutter Aviation to better serve customers in the Southwest region of the United States," said Paul Theofan, president and managing executive of GE Aviation's Business and General Aviation Turboprops. "With this significant expansion to our authorized service network, M601 and H80 customers will enjoy enhanced service and support coverage from one of the nation's premier FBO networks."
Founded more than 83 years ago by William P. Cutter, Cutter Aviation has been one of the leading aviation service providers in the southwestern United States and one of the most well-known brands in general aviation. As the oldest, continually family owned and operated FBO network in America, Cutter Aviation has decades of experience providing the best service for an outstanding value. Following the principles of respect, trust and integrity, Cutter Aviation truly leads the way in general & business aviation.
GE Aviation's Business & General Aviation Turboprops has more than 1,600 M601 engines in service that have accumulated more than 17 million flight hours on 30 applications. The H80 engine, GE's latest turboprop, is expected to receive EASA and FAA certification this year and will power business and general aviation, utility and agriculture aircraft. The H80 engine combines the elegant, robust design of the M601 engine with GE's 3-D aerodynamic design techniques and advanced materials to create a more powerful, fuel-efficient, durable engine compared with the M601 engine, with no recurrent fuel nozzle inspections and no hot section inspection. The H80 engine will also feature an extended service life of 3,600 flight-hours between overhauls, significantly enhanced hot-day takeoff performance and high-altitude cruise speeds. The H80 will provide the option of a single- or dual-acting governor, allowing customers the flexibility in propeller selection.
About GE Aviation
GE Aviation, an operating unit of GE (NYSE: GE), is a world-leading provider of jet and turboprop engines, components and integrated systems for commercial, military, business and general aviation aircraft. GE Aviation has a global service network to support these offerings. For more information, visit us at www.ge.com/aviation. Learn more about GE Business & General Aviation at http://facebook.com/GEBGA . Follow GE Aviation on Twitter at http://twitter.com/GEAviation and YouTube at http://www.youtube.com/user/GEAviation.
About Cutter Aviation
Founded in 1928 by William P. Cutter, Cutter Aviation is a full-service aviation company, offering aircraft fuel/line services, maintenance and avionics solutions, aircraft charter and aircraft sales and management. Cutter Aviation operates from eight major airports in five states within the Southwestern United States including: Arizona (Phoenix-Deer Valley and Phoenix-Sky Harbor), New Mexico (Albuquerque), Colorado (Colorado Springs), California (Carlsbad) and Texas (Dallas-McKinney, El Paso and San Antonio). The company is a member of the Pinnacle Air Network, National Business Aviation Association (NBAA), and the National Air Transportation Association (NATA). Cutter Aviation is the oldest continuously family-owned and operated FBO (Fixed Base Operator) in the United States with over 83 years of serving the General & Business Aviation industry. For more information about Cutter Aviation, please visit www.cutteraviation.com
Follow Cutter Aviation on Twitter at: http://twitter.com/CutterAviation and on Facebook at http://www.facebook.com/cutter.aviation.page