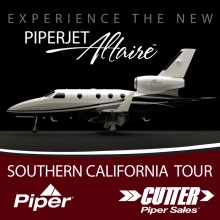 Cutter Piper Sales invites you to experience the revolutionary PiperJet Altaire in Southern California.  The full-size cabin & cockpit mockup of the PiperJet Altaire will be visiting four locations around Southern California with our team from Cutter Piper Sales and select aircraft from the Piper Aircraft executive line.
The PiperJet Altaire has always been in a class of one: the only single-engine business jet with a combined speed, range and payload that outperforms the twin-engine jets in its category. With a newly-evolved fuselage and other aerodynamic refinements, the PiperJet Altaire now has additional cabin height and width which now rivals, and in many cases surpasses, the interiors of the largest twin-engine VLJs. Best of all, the PiperJet Altaire will still cost significantly less to operate per hour than comparable current-production VLJ aircraft.
Come and learn more about the PiperJet Altaire at one of our Southern California tour visits.  Events are open from 12:00 pm to 7:00 pm each day.  Please RSVP and join us at one of the exclusive events at the locations listed below:
October 17, 2011 – Bakersfield, CA – Meadows Field (BFL)
Located at Bakersfield Jet Center / Loyd's Aviation – RSVP HERE

October 19, 2011 – Van Nuys, CA – Van Nuys Airport (VNY)
Located at Mather Aviation / Signature Flight Support VNY – RSVP HERE

October 21, 2011 – Santa Ana, CA – John Wayne Airport (SNA)
Located at Orange Co. Flight Center / American Aircraft Maint. – RSVP HERE
October 23, 2011 – Carlsbad, CA – McClellan-Palomar Airport (CRQ)
Located at Jet Source / Cutter Piper Sales – RSVP HERE
RSVPs are appreciated, but not required.  For more details or information, please contact Alex Kuzmanovic or Phil Scharber at Cutter Piper Sales.
Alex Kuzmanovic
760-579-0822 office
619-822-5644 cell
alex@cutterpiper.com
Phil Scharber
760-579-0821 office
760-814-5035 cell
phil@cutterpiper.com