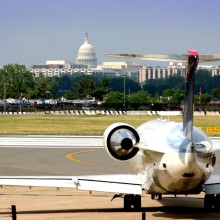 PHOENIX, ARIZONA — Cutter Aviation at Phoenix Sky Harbor Int'l Airport (PHX) has been granted approval as an FBO gateway for approved general and corporate aviation flights to Ronald Reagan Washington National Airport (DCA) by the Transportation Security Administration (TSA) as part of the DASSP (DCA Access Standard Security Program) initiative to restore General Aviation access to the airport.  Cutter Aviation PHX is only the second Arizona FBO and is one of less than 80 facilities nationwide to receive the DASSP approval from the TSA.  Cutter Aviation PHX was granted TSA approval on August 30, 2011 and is available for DCA Gateway operations effective immediately.
"We are pleased to now offer our customers the flexibility of travel directly to Washington D.C. through Reagan National Airport, which has been heavily restricted since September 11, 2001." said Richard Campbell, Operations Manager for Cutter Aviation Phoenix Sky Harbor. "With the number of government contractors in the greater Phoenix area, this added convenience will aid in the growth of business within our area."
Since September 11, 2001, aircraft arrivals into Ronald Reagan Washington National Airport (DCA), only three miles from downtown Washington D.C., have been restricted by the TSA to include only select commercial airline flights in the interest of national security.  The TSA began granting approval for select General and Corporate Aviation operations for arrival through DCA in 2006, but all operators and gateway FBO facilities must comply with strict security standards before being approved for operations into DCA.
Approved DASSP operators may now use Cutter Aviation Phoenix Sky Harbor (PHX) as their departure point into DCA.  Access to DCA is preferred for many corporate aircraft operators as its central location to Washington D.C. is far more convenient than operations into Dulles International Airport (IAD) or Manassas Regional Airport (HEF), both over 25 miles to the West.
For more information about Cutter Aviation PHX or DCA Gateway operations from our facility, please call our Customer Service Team at 602-273-1237, or visit http://www.cutteraviation.com/phx.
About Cutter Aviation
Founded in 1928 by William P. Cutter, Cutter Aviation is a full-service aviation company, offering aircraft fuel/line services, maintenance and avionics solutions, aircraft charter and aircraft sales and management. Cutter Aviation operates from eight major airports in five states within the Southwestern United States including: Arizona (Phoenix-Deer Valley and Phoenix-Sky Harbor), New Mexico (Albuquerque), Colorado (Colorado Springs), California (Carlsbad) and Texas (Dallas-McKinney, El Paso and San Antonio). The company is a member of the Pinnacle Air Network, National Business Aviation Association (NBAA), and the National Air Transportation Association (NATA). Cutter Aviation is the oldest continuously family-owned and operated FBO (Fixed Base Operator) in the United States with over 83 years of serving the General & Business Aviation industry. For more information about Cutter Aviation, please visit www.cutteraviation.com