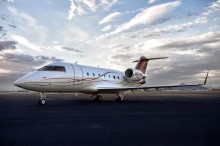 PHOENIX, ARIZONA — Cutter Flight Management is proud to announce the addition of a Bombardier Challenger 604 to its growing air charter fleet in response to client demand for large, long-range aircraft to support air charter flights for non-stop coast-to-coast, transoceanic and International operations. The aircraft, operating under Cutter Flight Management's FAA Part 135 air carrier operating certificate for air charter, is based at Cutter Aviation at Phoenix Sky Harbor International Airport, though the aircraft will support departures from most regional and national airport locations based on availability.
The Bombardier Challenger 604 offers the widest passenger cabin of any private or corporate jet on the air charter market. Accommodating up to 10 passengers, the Challenger 604 provides maximum comfort with a stand-up cabin, full in-flight galley, executive washroom, and luxurious leather seating in a finely appointed interior. The intercontinental capability of the Challenger 604 allows the aircraft to reach destinations as far as 4,600 miles non-stop at a cruise speed of up to 540 mph.
"The Challenger 604 is a significant addition to the Cutter Flight Management charter fleet and provides the long-range support our customers have requested as business expands to global destinations," said Will Cutter, President and Chief Executive Officer of Cutter Aviation. "Cutter Flight Management has been a leader in the Southwest for providing high quality regional and national air charter solutions for customers and the Challenger 604 adds an even greater area of service for our customers with unparalleled comfort."
"The Challenger 604 certainly grows our fleet at our Phoenix, AZ flagship facility at Sky Harbor Airport," added Cutter. "But with its proximity to popular Southwestern and West Coast markets like Las Vegas, Los Angeles, San Diego, Salt Lake City, and Santa Fe / Albuquerque, NM, we expect it to be a popular choice for our customers on a variety of trips, including non-stop flights to East Coast cities like New York City and non-stop flights far west to Hawaii."
Cutter Flight Management is the air charter and aircraft management division of Cutter Aviation.  The current Cutter Flight Management fleet includes the Cessna Citation XLS+ medium executive jet, four Hawker Beechcraft 400A/400XP light executive jets, a Beechcraft Diamond 1A light executive jet, a Beechcraft King Air 200 medium executive turboprop, and two Beechcraft King Air C90GTi light executive turboprops.  Cutter Aviation has provided air charter services to businesses and clients in the Southwest for over 80 years. For more information, please visit http://www.cutterflightmanagement.com or call our 24/7 customer care line at 800-297-8524.
About Cutter Aviation
Founded in 1928 by William P. Cutter, Cutter Aviation is a full-service aviation company, offering aircraft fuel/line services, maintenance and avionics solutions, aircraft charter and aircraft sales and management. Cutter Aviation operates from eight major airports in five states within the Southwestern United States including: Arizona (Phoenix-Deer Valley and Phoenix-Sky Harbor), New Mexico (Albuquerque), Colorado (Colorado Springs), California (Carlsbad) and Texas (Dallas-McKinney, El Paso and San Antonio). The company is a member of the Pinnacle Air Network, National Business Aviation Association (NBAA), and the National Air Transportation Association (NATA). Cutter Aviation is the oldest continuously family-owned and operated FBO (Fixed Base Operator) in the United States with over 83 years of serving the General & Business Aviation industry. For more information about Cutter Aviation, please visit www.cutteraviation.com