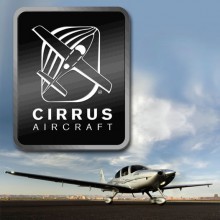 SAN ANTONIO, TEXAS — Cutter Aviation is pleased to announce that our San Antonio aircraft technical service facility located at San Antonio International Airport (SAT) in San Antonio, TX, has been named an Authorized Service Center by Cirrus Aircraft to provide service support for owners of all aircraft models produced by Cirrus Aircraft.
Cutter Aviation San Antonio is now authorized by Cirrus Aircraft to perform scheduled and unscheduled maintenance for all Cirrus Aircraft models as well as warranty work, repairs and component replacement for new and pre-owned Cirrus Aircraft. Avionics service and support for Cirrus Aircraft will also be available through Cutter Aviation San Antonio for owners and operators.
"Cutter Aviation San Antonio is proud to be selected by Cirrus Aircraft to join their customer support network as an Authorized Service Center," said Dan O'Banion, Manager of Aircraft Service for Cutter Aviation San Antonio. "Our experienced team of technicians and customer support staff are excited for the opportunity to support Cirrus Aircraft owners and pilots in Texas and the South Central United States."
John Strohl, Cirrus Aircraft Regional Field Service Manager for the South Central U.S. added: "We are pleased to have Cutter Aviation join our support network as an Authorized Service Center in Texas.  Cutter Aviation's long-standing reputation for quality aircraft service and customer care made their San Antonio facility a natural fit for Cirrus Aircraft and another example of our commitment to Cirrus owners, assuring their care with convenient and experienced service centers in Texas and around the world."
Opening in 1998, Cutter Aviation San Antonio has been an exclusive aircraft maintenance service facility for nearly 14 years as part of the Cutter Aviation network of FBO and service facilities throughout the Southwestern United States supporting General Aviation for over eight decades. In addition to Cirrus Aircraft, Cutter Aviation San Antonio is also an Authorized Service Center for Piper Aircraft and Daher-Socata TBM aircraft models.  For more information, please visit http://www.cutteraviation.com/SAT or call Cutter Aviation San Antonio at 210-340-6780.
To learn more about Cirrus Aircraft, visit http://www.cirrusaircraft.com.
About Cutter Aviation
Founded in 1928 by William P. Cutter, Cutter Aviation is a full-service aviation company, offering aircraft fuel/line services, maintenance and avionics solutions, aircraft charter and aircraft sales and management. Cutter Aviation operates from eight major airports in five states within the Southwestern United States including: Arizona (Phoenix-Deer Valley and Phoenix-Sky Harbor), New Mexico (Albuquerque), Colorado (Colorado Springs), California (Carlsbad) and Texas (Dallas-McKinney, El Paso and San Antonio). The company is a member of the Pinnacle Air Network, National Business Aviation Association (NBAA), and the National Air Transportation Association (NATA). Cutter Aviation is the oldest continuously family-owned and operated FBO (Fixed Base Operator) in the United States with over 83 years of serving the General & Business Aviation industry. For more information about Cutter Aviation, please visit www.cutteraviation.com