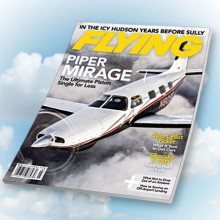 Cutter Texas Piper Sales received a great mention in the March 2011 issue of FLYING Magazine in it's feature article on the 2011 Piper PA-46 Mirage by Editor-in-Chief Robert Goyer, who also took the fantastic photos of the Mirage that grace the cover of the magazine and the article.
Read the full article on the Piper Mirage now online at FlyingMag.com by clicking here.  The photo gallery for the article may also be found at this link.
Mr. Goyer presents a very thorough review of the Mirage including its lineage and what has changed in the PA-46 as it has evolved into the 2011 model he had the opportunity to experience flying with Regional Sales Manager for Texas Piper North, Larry Johnson.  Goyer details and highlights the updated Garmin G1000 flight deck, now standard on the entire PA-46 line including the Piper Meridian, Piper Mirage, and Piper Matrix.  He also gives a great description of the characteristics of the Mirage, both on the ground and in the air.  Goyer and Johnson conducted the flight as many owners do: in IFR conditions, through the dense Class B airspace of the Dallas-Ft. Worth area, and eventually climbing to FL 200 to FL 230 where it performs best and illustrates the value of a pressurized piston aircraft.
This point is driven home by Goyer in his statement:
Goyer: "Just as it first did back in 1982, today's PA-46 makes a compelling argument that a pressurized piston single done right makes a lot of sense for pilots who want to go places with family, friends and co-workers and do it in pressurized comfort."
Cutter Aviation and Texas Piper Sales would like to thank FLYING Magazine and Mr. Goyer for the opportunity to demonstrate the capabilities of the Piper Mirage for the feature article.  We'd also like to thank Mr. Goyer for visiting Cutter Aviation Dallas-McKinney and his kind words about our Dallas-Area Sales Manager Larry Johnson.
Goyer: "Johnson has been selling PA-46s for a long time, and he knows the airplane intimately; I couldn't have asked for a better guide."
Most certainly the entire Piper Aircraft PA-46 line of executive aircraft offers the kind of high-performance flexibility Goyer describes and with three models, the PA-46 gives owners a variety of choices to fit their flying needs… Meridian for fast turboprop performance; Mirage for pressurized, piston-powered comfort; and Matrix for six-place comfort and speed at unmatched value.
For more information about the Piper Mirage, please contact the team at Cutter Texas Piper Sales at www.TexasPiper.com, representing Texas for Piper Aircraft, or our Southern California & Hawaii dealership, Cutter Piper Sales at www.CutterPiper.com.