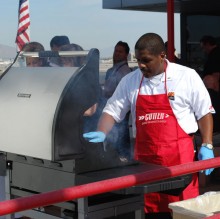 If you're inbound to Cutter Aviation Phoenix Sky Harbor (PHX), a local customer, or one of our friends from the local aviation community, you're invited to join the Cutter Aviation team for our monthly cookout for customers and friends on the patio under the Old Tower over looking our ramp for lunch, now scheduled for the 2nd Thursday of each month!
The cookout for May 2011 will be held on Thursday, May 12th, 2011 from 11:30 am to 1:30 pm.
We'll be grilling up hamburgers, hot dogs and all the fixings for lunch and invite you to join us for free to enjoy the beautiful Arizona afternoon for a free lunch!  Bring your friends and co-workers… we have plenty to go around!
Cutter Aviation Phoenix is located at 2802 E. Old Tower Road, Phoenix, AZ 85034 and you can find a map and directions at this link to Google Maps.  If you're inbound, give us a call at 602-273-1237 before departure to let us know you're coming in, or call us when you're 20 minutes out on our ASRI Frequency, 128.875.
For the full schedule of cookouts – click to see our page "Visit Cutter Aviation PHX for Our Monthly Cookout!"
We look forward to seeing you!