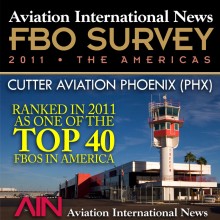 Cutter Aviation PHX Rated Best in Line Service for Arizona & One of the Top 40 FBOs in the Americas in 2011 AIN FBO Survey
Phoenix, Arizona (News Release for Immediate Distribution) –  Cutter Aviation at Phoenix Sky Harbor International Airport (PHX) received the highest rating for Line Service performance for the State of Arizona in the nationwide 2011 Aviation International News (AIN) Survey of Fixed Base Operators (FBOs) serving General and Business Aviation operations within the Americas as released on April 1, 2011.  Cutter Aviation Phoenix was rated a score of 8.58 for the Line Service category – ranking 1st in Line Service for the State of Arizona; beating other facilities in the Phoenix and Scottsdale area as well as other parts of the state. The line service category measures the quality, speed, professionalism, and safety of line service technicians and customer service staff as well as the quality of fuel and aircraft line service equipment.
Aviation International News, one of the leading trade publications for the Business Aviation industry, has conducted the annual FBO Survey since 1981.  The 2011 survey received 23,452 FBO evaluations from active flight department crews (pilots, dispatchers and flight attendants) rating 1,718 individual FBOs in North and South America for their performance in 2010.  In the 2011 Survey, Cutter Aviation Phoenix Sky Harbor also ranked as one of the Top 40 FBOs in the Americas as #25 in the list – rising over 15 positions from previous surveys to rank well within the Top 40 List.
"Our team here at Phoenix made it happen!" said Richard Campbell, Operations Manager for Cutter Aviation PHX. "Pilots, passengers and flight departments really care about the service they receive and how they are treated – it's part of our 83 year company culture to treat our customers like family and our survey results certainly show it!"
"There are many factors that customers judge an FBO by, but it's the people that make real difference" noted Will Cutter, President and CEO of Cutter Aviation.  "We're proud of the passion, professionalism and loyalty of our teams in Phoenix and all of our locations around the Southwest – they are all winners in our opinion!"
Flight crews certainly had the opportunity to experience the award-winning service at Cutter Aviation Phoenix Sky Harbor as the airport itself also ranked as one of the Top 40 Busiest Airports for Business Aviation in the Americas in the #22 position; a rating that excludes commercial airline activity.  This high ranking for PHX illustrates the importance of Phoenix Sky Harbor International Airport and businesses like Cutter Aviation Phoenix in contributing to the economic health of the city and business growth and support throughout the Phoenix Metro area.  Cutter Aviation was originally founded in 1928 in Albuquerque, NM and remains America's oldest continually family owned and operated FBO network.  Cutter Aviation opened its facility at Phoenix Sky Harbor Airport in 1959 and has proudly served the airport and community for over 52 years.
The 2011 AIN FBO Survey Results for the Americas may be downloaded in PDF format from the link below .  For more information about Cutter Aviation Phoenix Sky Harbor (PHX), please visit http://www.cutteraviation.com/phx or call 602-273-1237.
About Cutter Aviation
Founded in 1928 by William P. Cutter, Cutter Aviation is a full-service aviation company, offering aircraft fuel/line services, maintenance and avionics solutions, aircraft charter and aircraft sales and management. Cutter Aviation operates from eight major airports in five states within the Southwestern United States including: Arizona (Phoenix-Deer Valley and Phoenix-Sky Harbor), New Mexico (Albuquerque), Colorado (Colorado Springs), California (Carlsbad) and Texas (Dallas-McKinney, El Paso and San Antonio). The company is a member of the Pinnacle Air Network, National Business Aviation Association (NBAA), and the National Air Transportation Association (NATA). Cutter Aviation is the oldest continuously family-owned and operated FBO (Fixed Base Operator) in the United States with over 83 years of serving the General & Business Aviation industry. For more information about Cutter Aviation, please visit www.cutteraviation.com
---
Downloads (Right Click and "Save Target As" to Download):