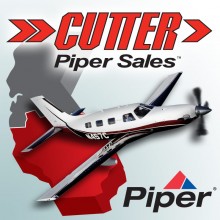 Phoenix, Arizona (News Release for Immediate Distribution) – Cutter Aviation, headquartered in Phoenix, Arizona is pleased to announce that it has been appointed by Piper Aircraft Inc. as the new exclusive dealer for new Piper Aircraft sales for Southern California and Hawaii.  The new dealership division will be known as Cutter Piper Sales and the appointment is effective immediately.
In a press release issued by Piper Aircraft Inc., Randy Groom, Executive Vice President of Piper said, "Our experience with Cutter Aviation as our dealer in the Southwestern United States has been superb." He continued, "As we strengthen our dealer network, we are very pleased that Cutter's sales organization also will be representing our exceptional and efficient product line now in Southern California." Groom said that Piper Aircraft, by working with Cutter Aviation, is looking forward to expanding market share in Southern California.
Cutter Piper Sales is currently preparing offices located at McClellan-Palomar Airport (CRQ) in Carlsbad, CA for a February 2011 opening.  The central location between the Los Angeles metro area and the San Diego metro area provides an optimal position in terms of convenience and service for current and future Piper Aircraft owners in the region.
Cutter Piper Sales
William W. Cutter, Cutter Aviation president and CEO, said, "Piper Aircraft is one of the finest general aviation manufacturers in the world, and we are very pleased to be expanding our dealer representation for the company's strong product line. We will have the right sales team in place in Southern California that will proudly represent Piper products in that market region."
"For the Cutter Aircraft Sales Team, selling aircraft comes second to our goal of developing long-term relationships with our customers," Cutter said. Cutter Piper Sales joins their established Piper Aircraft dealership in Texas, Cutter Texas Piper, which has been serving that region since 1994. With over 111-years of combined sales experience, the Cutter team has become one of the most respected aircraft sales companies in the United States.
Cutter Piper Sales has chosen Phillip Scharber and Alexander Kuzmanovic to represent the Piper Aircraft brand as Regional Sales Managers based at the Carlsbad, CA location.  Both are highly experienced sales professionals with a focus in General Aviation aircraft.
To learn more about Cutter Piper Sales and the Sales Team, please visit www.CutterPiper.com or call Cutter Aircraft Sales at 888-288-8370.
About Cutter Aviation
Founded over eighty-five years ago by William P. Cutter, Cutter Aviation has been a leading aviation services provider for the Southwestern United States and one of the most well-known names in General Aviation. As America's oldest continuously family owned and operated FBO network, Cutter Aviation has decades of experience of providing the best quality service for an outstanding value. Following the principles of Respect, Trust, and Integrity Cutter Aviation truly leads the way in General & Business Aviation.
About Piper Aircraft
Piper Aircraft Inc. is headquartered in Vero Beach, Fla. A global force in aviation, Piper offers efficient single-engine and twin-engine trainer, personal and business aircraft. Piper Aircraft designs, manufactures, sells and supports the strongest and broadest single-engine product line in the industry, from high-performance pistons to turboprops to the world's most fuel-efficient seven-person business jet, the PiperJet Altaire. With economical acquisition and operating costs, Piper airplanes deliver the best values available today and into the future. Piper is a member of the General Aviation Manufacturers Association.