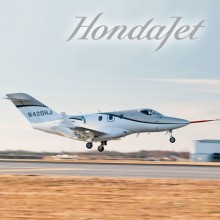 Honda Aircraft Company, Inc. announced yesterday (12/21/2010) that the FAA-conforming prototype of the HondaJet advanced light business jet powered by the General Electric HF120 turbofan engines successfully completed its first flight on Monday, December 20th, 2010 at 3:31pm EST from the Piedmont Triad International Airport in Greensboro, North Carolina — the worldwide headquarters of Honda Aircraft Company, Inc.
According to the official HondaJet press release, the flight lasted 51 minutes, during which the aircraft's flight characteristics and performance were analyzed and systems checks were conducted.  All flight test data was transmitted in real-time to Honda's flight test telemetry operations base in Greensboro.
"This is a very important milestone for the HondaJet program," said Michimasa Fujino, Honda Aircraft Company President and CEO in the company press release. "This aircraft was assembled and tested under strict FAA certification processes, and we are very pleased to have achieved this successful first flight. Our team has worked extremely hard to reach this critical step in the HondaJet program, and these results reflect Honda's focus and determination to develop a class-leading aircraft."
"We are very encouraged by our initial review of the flight data, which indicates the conforming HondaJet performed as expected. As we move forward, we will continue to focus all of our efforts and energy to deliver to our customers the most advanced light business jet yet created," said Fujino.
The Honda Aircraft Company, Inc. press release also announced progress in the facility and timeline for production of the HondaJet advanced light business jet:
While Honda enters the flight test program with its conforming HondaJet, the company also nears completion of its aircraft production facility on its Greensboro campus. The 266,000 sq. ft. HondaJet production facility is scheduled for completion in early 2011, with the final phase of interior build-out now underway. Upon completion of the production facility, Honda will begin the process of moving equipment and personnel into the facility and undertaking pre-production preparations and training necessary to support HondaJet production ramp-up beginning in 2012.
The entire Honda Aircraft Company, Inc. press release on the first flight event may be found on the HondaJet website through this link: "Honda Achieves First Flight of FAA-Conforming HondaJet – 12.21.2010"
The team at HondaJet Southwest and Cutter Aviation congratulate the HondaJet team on reaching this important milestone and look forward to more exciting news in the program through the coming year.  HondaJet Southwest is the Authorized Sales Representative for HondaJet in Texas, Oklahoma, New Mexico, Arizona, Southern California, Southern Nevada (Clark Co. / Las Vegas) and Hawaii.  Contact the HondaJet Southwest team through the official HondaJet Southwest Region website here.
Additional photos of the first flight of the FAA-conforming HondaJet may be found at the HondaJet First Flight Page.  The official video of the flight may be found at the Honda Media Newsroom at the link "Honda Achieves First Flight of FAA-Conforming HondaJet – Video"