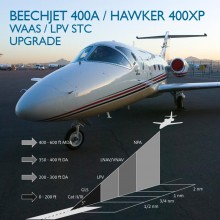 Phoenix, Arizona (News Release for Immediate Distribution) – Cutter Aviation, working with Rockwell Collins, is announcing the mid-December 2010 completion of the development of a Supplemental Type Certificate (STC) to upgrade the Hawker 400XP and Beechjet 400A for Localizer Performance with Vertical Guidance (LPV) utilizing Wide Area Augmentation System (WAAS).  The STC is projected to be available after December 20, 2010 and Cutter Aviation is already working with operators to discuss equipment requirements and scheduling for the upgrade.
The LPV STC will allow the Hawker 400XP and Beechjet 400A to take advantage of the more than 2300+ LPV approaches available with minimum decision heights as low as 200 feet.  The access to LPV minimums means greater accessibility to more places, and in some cases, a reduction in annoying and expensive delays due to ground or arrival holds.  The new generation equipment also allows for more efficient and smoother approach profiles.
Cutter Aviation located at Phoenix Sky Harbor Int'l Airport in Phoenix, AZ provided the aircraft, performed the installation and engineering, modified existing equipment, installed the new equipment, performed system testing and flight testing, prepared the necessary drawing packages, and submitted the STC project for final approval by the FAA.  Rockwell Collins provided the equipment, proprietary data, technical interface documentation, and safety assessment documentation.
Cutter Aviation will be offering the LPV STC Upgrade from its service centers in Phoenix, AZ at Phoenix Sky Harbor International Airport (PHX); Albuquerque, NM at Albuquerque International Sunport (ABQ); and Dallas-Addison, TX at Addison Airport (ADS).
Hawker Beechcraft 400XP and Beechjet 400A operators who are interested in learning more about the LPV upgrade, equipment requirements, and current scheduling may contact Cutter Aviation Technical Services.
For additional information, please visit http://www.cutteraviation.com/beechjetLPV.
About Rockwell Collins
Rockwell Collins (NYSE: COL) is a pioneer in the development and deployment of innovative communication and aviation electronic solutions for both commercial and government applications. Our expertise in flight deck avionics, cabin electronics, mission communications, information management, and simulation and training is delivered by nearly 20,000 employees, and a global service and support network that crosses 27 countries. To find out more, please visit www.rockwellcollins.com.