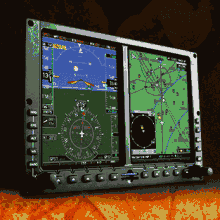 Start your Autumn flying off with a fresh avionics view in the cockpit!  Join Cutter Aviation Phoenix Deer Valley and Garmin on Thursday, October 7th from 7:00pm to 9:00pm for an opportunity to see the features & benefits of the Garmin G600 & G500 glass panel retrofit for general aviation aircraft, the Garmin 696 and the new Garmin Aera family of aviation portable units as well as the GTS Traffic System.  Refreshments will be provided and door prizes will be given out to attendees.
The seminar is being held at Cutter Aviation Phoenix Deer Valley at 530 West Deer Valley Road, Phoenix, AZ 85027 (click link for Google Map).
An added benefit will be your chance to learn more about the current "Fly Into the Future" Rebate being offered for the purchase of a qualifying G500 or G600 Flight Deck. You may receive a rebate of up to $6,000 plus get 6 months of database updates free for this mail-in rebate offer for purchases made from September 1st through October 31st.  Please see the "Fly Into the Future" offer page for more details and to download a rebate form.  Installations of the G600 and G500 are available at both Phoenix-area Cutter Aviation locations.  Call Cutter Aviation Deer Valley (DVT) at 623-581-1881 or Cutter Aviation Phoenix Sky Harbor (PHX) at 602-273-1237 for more information.
If you aren't in the Phoenix area and can't make it to the Garmin seminar, please visit this link to see the full schedule of Garmin seminars to find one closest to you!