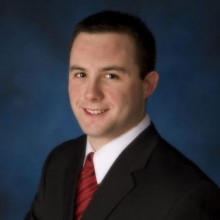 PHOENIX, AZ – Cutter Aviation is pleased to announce a new addition to the growing Aircraft Management and Charter department at Phoenix Sky Harbor.  Alexander Kuzmanovic joined Cutter Aviation in November as Manager of Aircraft Management and Charter Sales.
Kuzmanovic will lead the effort to continue expansion of the managed aircraft program for Cutter Aviation at all locations in addition to developing new business opportunities for the existing Cutter aircraft charter network.  Kuzmanovic is based at Cutter Aviation's headquarters at Phoenix Sky Harbor Airport in Phoenix, AZ, but will be managing efforts at Cutter locations across the Southwestern United States.
Kuzmanovic joins Cutter Aviation from his previous position as a Regional Sales Manager for Hawker Beechcraft representing Piston and Turboprop aircraft.  He is a graduate of the United States Air Force Academy in Colorado Springs, CO and honorably served as a United States Air Force Officer.  Kuzmanovic is also a commercial pilot and certified flight instructor.
Contact Alexander Kuzmanovic, Manager of Aircraft Management & Charter Sales directly at (602) 267-4085 or via e-mail akuzmanovic@cutteraviation.com.
About Cutter Aviation
Founded in 1928 by William P. Cutter, Cutter Aviation is a full-service aviation company, offering aircraft fueling, maintenance and avionics solutions, aircraft charter and aircraft sales and management. Serving the business aviation industry, Cutter has operations at eight major airports in Arizona (Phoenix, Deer Valley and Phoenix, Sky Harbor), New Mexico (Albuquerque), Colorado (Colorado Springs) and Texas (Dallas, El Paso, McKinney and San Antonio). The company is a member of the Pinnacle Air Network, National Business Aviation Association (NBAA), and the National Air Transportation Association (NATA). Cutter is the oldest continuously family-owned and operated FBO (Fixed Base Operation) with over 80 years of serving the aviation community.