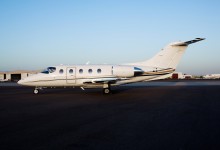 MCKINNEY, TX – With a legacy of providing the finest in air charter in the Southwestern United States for over eighty-five years, Cutter Aviation is proud to announce its latest expansion that will bring Cutter Aviation on-demand air charter to the Dallas / Fort Worth, TX market.
On September 1, 2009 Cutter Aviation will begin operations from its new Texas base located at the Cutter Aviation FBO facility at Collin County Regional Airport in McKinney, TX.  This new base adds significantly to the existing Cutter Aviation air charter network; joining the current bases in Phoenix, AZ and Albuquerque, NM. With bases centrally located in the largest metro areas of key Southwestern states, customers benefit from having not only Dallas-based Cutter Aviation aircraft for charter, but also have access to the Cutter Aviation fleet that ranges from regional twin turboprop aircraft through long-range large jet aircraft for departures from the Metroplex.
The addition of a base in McKinney, TX by Cutter Aviation Aircraft Charter also heralds the first charter operation to establish a permanent operation from Collin County Regional Airport; the most convenient airport to the highest growth regions of the Dallas Fort Worth Metroplex.
"Collin County Regional Airport is a perfect location to establish air charter from," said Mike Livezey, General Manager of Cutter Aviation McKinney.  "It adds a crucial service to support the high commercial and residential growth that's taking place in Collin County."
Cutter Aviation will immediately begin offering on-demand charter aboard the Hawker Beechcraft 400XP – one of the most efficient, modern medium-light jet aircraft in the skies today.  Comfortably seating eight passengers and able to cruise at speeds over 550 mph, the 400XP is able to reach East Coast and West Coast destinations non-stop with ease. It remains one of the best values per flight hour and is a perfect match for a wide range of flights from the convenient North Dallas base in McKinney.
"Business travel from our location in McKinney makes a lot of sense," said Cutter Aviation President Will Cutter.  "When a deal needs to be made and delays and canceled flights aren't an option… charter is the key.  When your sales team needs to make multi-city visits and get the best return per flight hour… charter is the key."
Cutter Aviation's air charter using the Hawker 400XP also offers optimum flexibility for departure and arrival airports.  Though based in McKinney, the aircraft has the ability to depart with passengers from other convenient, non-commercial airports such as Addison Airport serving North Central Dallas, Dallas Executive Airport serving South Dallas and Fort Worth's Meacham Airport serving Fort Worth and locations West.  Destination airport options offer the ultimate in point-to-point flexibility by allowing passengers to arrive at smaller airports closer to their final destination – avoiding large airports and their delays.
All flight operations conducted by Cutter Aviation meet and exceed the safety standards outlined by the Federal Aviation Administration for air charter operators.  Cutter Aviation maintains the GOLD Rating by ARG/US, an independent aircraft charter safety and training auditor considered the standard by which the highest quality charter providers operate.
Contact Cutter Aviation Aircraft Charter to learn how charter flights with Cutter may save you time and money and take the hassle out of travel.  Visit http://www.cutteraviation.com or call our charter team toll-free at 800-297-8524 today!
About Cutter Aviation
Founded in 1928 by William P. Cutter, Cutter Aviation is a full-service aviation company, offering aircraft fueling, maintenance and avionics solutions, aircraft charter and aircraft sales and management. Serving the business aviation industry, Cutter has operations at eight major airports in Arizona (Phoenix, Deer Valley and Phoenix, Sky Harbor), New Mexico (Albuquerque), Colorado (Colorado Springs) and Texas (Dallas, El Paso, McKinney and San Antonio). The company is a member of the Pinnacle Air Network, National Business Aviation Association (NBAA), and the National Air Transportation Association (NATA). Cutter is the oldest continuously family-owned and operated FBO (Fixed Base Operation) with over 85 years of serving the aviation community.
no images were found