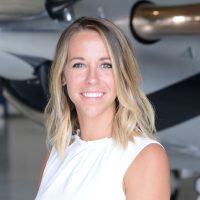 Biography
Monica Lucas is the Cutter Aviation, Pilatus Business Manager. In her role, Lucas is responsible for selecting exterior and interior styling specifications of factory new aircraft, and coordinating with escrow companies to ensure all documentation is accurately and correctly filed. During every aircraft transaction, she works closely with all parties involved, from the manufacturer to the customer, to ensure a successful and smooth closing process.
Monica is based at Centennial Airport (KAPA) where she has worked for the last 10 years. Monica's experience in aviation includes being the Cost Manager for an environmental engineering company, where she coordinated an assortment of aircraft to assist critical missions. In this job, Monica gained invaluable project management experience and government proposal writing. She also worked for 7 years with a former Southwest Pilatus Dealership, where she developed important relationships with the manufacturer, clients and support staff.
Monica graduated from The University of Cincinnati and currently resides in Denver, CO.