David Crockett
Regional Aircraft Sales Manager
Cutter TBM Sales
P: (210) 485-1319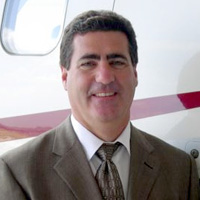 Biography
David Crockett has been a professional in the General and Business Aviation industry for over sixteen years and is an experienced sales and marketing specialist when it comes to high performance owner-flown aircraft like the TBM. Joining Cutter Aviation in 2000 as a Regional Sales Manager for Cutter Aircraft Sales, David represents the Daher TBM aircraft for Cutter TBM Sales, the Authorized Distributor for the TBM in the South Central United States. David covers the states of Texas, Oklahoma, Kansas, Missouri, Arkansas and Louisiana as his territory for the TBM — and flying the distances between destinations in his vast territory is no problem with the fastest turboprop aircraft on the market as the product he represents!
Prior to joining the Cutter Aviation team, David was the Manager of Aircraft Distribution for Mooney Airplane Company in Kerrville, Texas and was responsible for the Domestic and International dealer network for Mooney. David specializes in aircraft consulting and purchase planning and takes a very personal, one-on-one approach with his valued clients through all the aspects of the acquisition process.
David Crockett is an FAA-Certified Commercial Pilot for both Single and Multi-Engine land aircraft with Instrument Rating. He is also a Certified Flight Instructor with Instrument authorization and has over 5800 hours of total flight experience. David is a graduate of Schreiner University with a Bachelor of Commerce and Accounting. He is an active member of the TBM Owners and Pilots Association (TBMOPA) as well as the Aircraft Owners and Pilots Association (AOPA) and the Experimental Aircraft Association (EAA). He and his family live in San Antonio, Texas.