The Meridian M500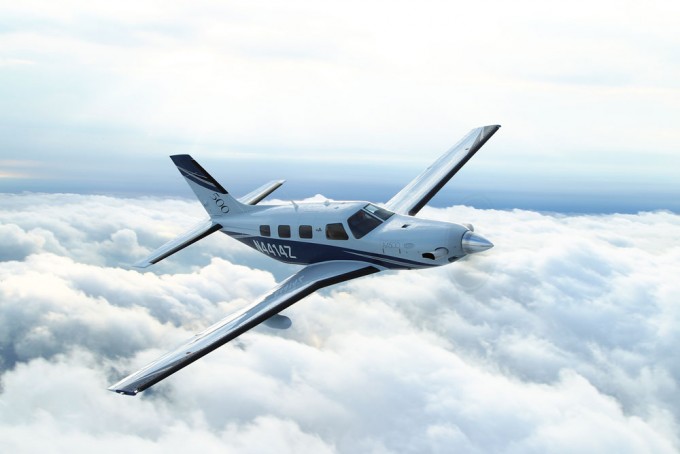 Sleek and sexy without sacrificing safety, the M500 is the profile of perfection. This single engine turboprop, with the latest in Garmin Safety Technology, remains a study in priorities. Six-place seating and a pressurized cabin comfortably accommodate passengers, prioritizing precious assets, while the 500 SHP Pratt & Whitney PT6-42A turbine satisfies the most discerning pilot by providing adrenaline-inducing, powerful performance and unmatched reliability. Like its Meridian predecessors before, the M500 is a celebrated crowd-pleaser and still the best value in its class.
AIRCRAFT DESIGN
INTERIOR DESIGN
The M500 interior is available in four distinct color palettes:
COMFORT, STEPPED UP
As you step up the airstair door entrance into the spacious M500, you will be greeted with cabin-class seats featuring hand-selected leather, tanned in Italy. These natural leather seats offer not only luxury, but flexibility. With adjustable backrests and the ability to fold down, even more cabin space can be created for your passengers or luggage. Passengers have easy access to the interior baggage compartment and amenities such as the two 110-volt outlets. Situated around the cabin, you can also find the standard individual cup holders, reading lights, air vents, and built-in work table. LED accent strip lighting fills the cabin in warm light. All of these attributes work collectively to make any business or personal flight as comfortable as possible for pilots and passengers alike.
EXTERIOR DESIGN
DOUBLE TAKES ARE PERMITTED
The M500 exterior styling offers a two-tone scheme in Axalta Imron polyurethane paint with a choice of metallic or non-metallic colors. Registration numbers are color coordinated. Custom paint schemes are quoted upon request.
SPECIFICATIONS
PERFORMANCE

EQUIPMENT
STANDARD
AVIONICS
AVIONICS GARMIN G1000 AVIONICS SUITE WITH SYNTHETIC VISION
Standard Equipped List Price: $2,264,250
Dual 10" PFDs, Single 12.4" MFD, Dual GIA 63W NAV/COM/GPS, GFC 700 Autopilot with Enhanced AFCS, GMC 710 AP Controller, GCU 476 keypad, Garmin FliteCharts, SafeTaxi, GMA 350 Audio Panel, Dual GDC 74A Air Data Computers, GTX 33ES Transponder, GWX 68 Weather Radar and Aspen EFD-1000 Stand-by Flight Instruments, Fully Integrated Digital Pressurization
ADDITIONAL STANDARD EQUIPMENT
Flight Into Known Icing (FIKI) | PiperAire Air Conditioning | Yaw Damper System | Hardwired Cockpit Bose A20 Headsets | Dual USB Charging Ports
OPTIONAL EQUIPMENT
110 Volt AC Power Outlet
Jeppesen ChartView(One year subscription to Jeppesen PilotPak)
GSR-56 Iridum Transceiver
GDL 69A XM WX Satellite Radio
Weather (includes GRC10 Wireless Remote)
WX-500 Stormscope
TAWS-B
DME BendixKing KN 63
GTS-825 Traffic Advisory System
GTX 33ES Second Transponder

Diversity Digital Transponder –
GTX33D with Dual Antennas:(Required for European Aircraft.
Exchange for STD GTX330)
United Kingdom Lighting Package
Top Metallic Base Coat
Bottom Metallic Base Coat
Optional Meridian Paint Scheme
AmSafe Aviation Airbag System (crew seats)
Additional Special Options
Photo Gallery