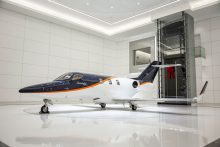 Phoenix, AZ — Cutter Aviation is proud to announce the addition of three HondaJet aircraft to its ever-growing charter fleet in response to an increase in demand for private air transportation. Two of the HondaJet are based in Phoenix, Arizona and one in Addison, Texas. This fleet expansion allows us to provide increased coverage to our Southwest US clients.
Cutter currently has a total of seven HondaJet on its Charter Certificate, making it one of the largest HondaJet fleets in the world. "We are delighted to be able to offer these new HondaJets to our clients," said Will Cutter, President and CEO of Cutter Aviation. "These aircraft comfortably seat up to six passengers, are equipped with Wifi and provide the client with an exclusive experience unlike any other very light jet on the market. With a cruising speed of 420 knots, an altitude of 43,000 feet and a range of up to 1,400 statute miles, the HondaJet sets the standard in its category."
HondaJet has been a part of Cutter Aviation's Charter operation since 2015. The aircraft has proven to be a perfect solution to its clients' needs, providing fast and comfortable access to locations not easily reached by commercial airlines. The HondaJet is a perfect balance of speed, luxury, cost and efficiency.
For more information or to book your next HondaJet charter flight, call our 24/7 customer care line at 602-267-4080 or visit cutteraviation.com/charter.