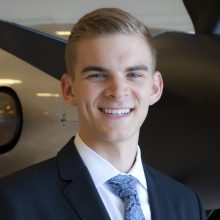 Cutter Aviation is pleased to introduce Evan York as the Charter Sales & Aircraft Acquisitions Representative for Cutter Aviation's Charter & Flight Management Department based in Phoenix, AZ. In his new role, Mr. York will be instrumental in maintaining and growing Cutter's charter flight operations and aircraft management services for our domestic and international client base.
Mr. York previously worked at Textron Aviation headquarters in Wichita, KS before moving to a small aircraft charter operation in the Phoenix Valley. Mr. York's prior experience includes leading, coaching and mentoring new-hire representatives. Prior to starting a career in aviation, he worked for a Business-to-Consumer company where he grew a culture of success and professionalism among junior sales associates. Mr. York's methods and mentorship with his team led to record-breaking sales several years in a row.
Mr. York is the author of a book about mental health titled Sick of Suffering that was published in September of 2017.
While studying for his B.S. in Professional Sales and Marketing, Mr. York earned his FAA Private Pilot's license with an Instrument Rating.