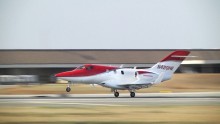 The HondaJet to make debut in Japan and Europe
GREENSBORO, N.C. — April 8, 2015 — Honda Aircraft Company announced today that the HondaJet will begin a world tour in late April with the advanced light jet making its first appearances in Japan and Europe. The HondaJet will travel more than 26,000 nautical miles during the tour and stop in 13 countries along its flight route.
"The HondaJet world tour is a tribute to Honda's challenging spirit to bring something truly innovative to business aviation," said Honda Aircraft Company President and CEO Michimasa Fujino. "We are excited to introduce the HondaJet to Japan and Europe for the first time. As part of this special tour, we will conduct demonstration flights to share what Honda has accomplished through the power of dreams."
HondaJet public debut in Japan: April 25, 2015 to May 5, 2015
The HondaJet world tour will officially begin from Japan with the HondaJet scheduled to make appearances at several airports, including Narita International Airport. Honda Aircraft Company will showcase the advanced light jet at public events from Friday, April 25 to Tuesday, May 5. These special events will include static displays of the aircraft as well as flight demonstrations.
HondaJet European debut: EBACE 2015
The HondaJet will travel from Japan to Europe for the 15th annual European Business Aviation Convention and Exhibition (EBACE) in Geneva, Switzerland, May 19 – May 21. For the first time, the HondaJet will be on static display at the Geneva International Airport as part of Honda Aircraft Company's presence at Europe's largest business aviation event.
"We are excited to bring the HondaJet to EBACE and showcase its performance capabilities in Europe," said Fujino. "The HondaJet has broad appeal in this region with its speed, superior efficiency, and a range that connects most of the major cities in Europe and the United Kingdom."
Honda Aircraft is also planning a special demonstration tour with HondaJet dealers in Europe following EBACE. Demonstration flights will be offered at major cities in six countries including Switzerland (Geneva); U.K. (Farnborough and Birmingham); Belgium (Antwerp); France (Paris); Germany (Munich, Hamburg and Moenchen); and Poland (Warsaw).*
The HondaJet is currently offered for sale in North America and Europe through the HondaJet dealer network. For more information about the HondaJet, visit http://www.hondajet.com/.