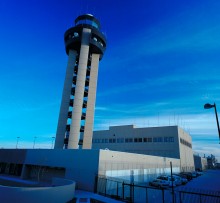 Cutter Texas Piper Sales is hosting the 2012 Operation Raincheck Tour and we would like to invite you!  Operation Raincheck is your opportunity as a pilot to experience the behind-the-scenes operations of our Air Traffic Control system and learn more about what we can do as pilots to better partner with our ATC teams to improve communication, safety, situational awareness, and operational efficiency in the air and on the ground.
This year's Operation Raincheck will take us to Dallas-Fort Worth Airport (DFW) on Friday, October 19th 2012 to tour the DFW TRACON Approach/Departure Control and Tower and Ground Operations. The event will run from 11:00am to 3:30pm and Lunch will be provided. Space is limited to 25 participants, so please RSVP today! (see below)
In addition to the valuable learning experience at the DFW TRACON, we will also have an opportunity to learn more about aircraft ownership and the important issues that you need to know about to make it easier to purchase and/or operate an aircraft. Larry Johnson from Cutter Texas Piper Sales will discuss the 2013 models of Piper Aircraft including the M-Class Family of high performance six place aircraft including the Matrix, Mirage, and the turbine-powered Meridian. Daniel Cheung from Aviation Tax Consultants will discuss Bonus Depreciation business use strategies and deductions for Federal Tax Savings on aircraft ownership. Jim Struble & Steve Moore of Jackson Walker L.L.P. will discuss issues relating to State of Texas Sales Tax, registrations relating to possible sales tax conflicts, and strategies to deal with aggressive tax collection, and overall best practices relating to Texas Sales Tax issues as an aircraft owner.
In 2011, twenty-four pilots and owners of a variety of airplane types joined us for Operation Raincheck and their experience levels ranged from low time pilots all the way up to skilled high-timers. The 2011 event toured the FAA DFW ARTCC/Center Operations Center and allowed participants to watch and listed to live ATC activity from the Control Room Floor and also included several hours of interactive question and answer sessions. All attendees enjoyed the insightful tour and many vowed to come back in 2012 for Operation Raincheck at the DFW TRACON in 2012!
RSVP for Operation Raincheck Today!
Please RSVP for the 2012 Operation Raincheck on Friday, October 19th 2012 by filling out the form at the link below or by calling Sarah Williams at 214-842-6187. Please RSVP at your earliest opportunity because each tour is limited to 25 participants in total.
If you are a Non-US Citizen, Please RSVP by phone at 214-842-6187 and provide the following:
Legal Permanent Residents: Social Security Number (if available) and Green Card Number
Foreign Nationals: Full Name, Date and Place of birth, Passport number with country of issue, Citizenship and Country of residence.