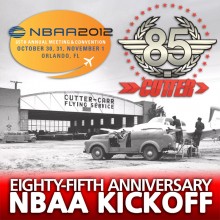 PHOENIX, AZ – As Mr. William P. Cutter began the first day of business for Cutter Flying Service in January of 1928, the landscape of General and Business Aviation at the time was as uncharted and rugged as the landscape surrounding his airport in Albuquerque, New Mexico. The concept of an "aviation business" had only been officially defined by the government two years earlier with the passage of the Air Commerce Act of 1926, so the idea of offering services to such a fledgling industry was considered to be a substantial risk for anyone embarking on such a venture. Undeterred, William P. Cutter saw a need for aviation in the Southwest to improve transportation infrastructure, help industries grow in the region, and provide critical air service to isolated communities in need of services and supplies. Eighty-five years ago, William P. Cutter believed in General and Business Aviation and the principles behind his goals for Cutter Flying Service remain as true today for the industry as he saw them back in 1928. The legacy of William P. Cutter continues today as Cutter Aviation, the oldest continually family-owned and family-operated aviation services network in the United States, celebrates the kickoff of its 85th Anniversary Celebration year at the National Business Aviation Association (NBAA) Annual Meeting & Convention in Orlando, FL from October 30 to November 1, 2012.
Eighty-five years of continual growth and business success is a remarkable achievement for any company and Cutter Aviation is proud to be celebrating such a monumental milestone in 2012 and 2013. Not only surviving, but thriving through such times as the Great Depression, World War II, the Cold War and Vietnam War, and several economic recessions and energy droughts, Cutter Aviation is a symbol in General Aviation of tenacity, determination, and commitment to the core promises of delivering a wide range of quality products and services at a better value to loyal customers for generations. While other businesses may compromise quality for profits or change hands and shareholders over their lifetime, Cutter Aviation remains as the consistent and dependable name that owners, pilots, and crews rely on for the best service in the Southwestern United States – line services, maintenance, avionics, aircraft sales, aircraft charter and management.
Cutter Aviation will be kicking off their 85th Anniversary Celebration year at the NBAA Convention from the Phillips 66 Aviation Booth #4560 throughout the event. The Cutter Aviation team will be giving away cans of our World-renowned Cutter Aviation Hatch Chiles from New Mexico at our two kiosks in the Phillips 66 booth.
Additionally, on Tuesday, October 30th at 2:00pm (ET), Phillips 66 and Cutter Aviation will be having cake to celebrate the 85th Anniversary of each company. Phillips 66 Aviation is concluding their 85th Anniversary year in 2012 at the NBAA Convention while Cutter Aviation begins our 85th Anniversary year at the event! Cutter Aviation is also the oldest Phillips 66 Aviation Fuels dealer in their network of over 870 fixed base operators (FBO) in the nation, with Cutter Aviation (formerly Cutter Flying Service) in Albuquerque, NM becoming a dealer in 1938 and remaining so for 75 years.
For more information about Cutter Aviation, its history, and the 85th Anniversary Celebration in 2012-2013, please visit us online at http://www.CutterAviation.com or visit our Facebook Page at http://Cutter85.com/Facebook
About Cutter Aviation
Celebrating 85 years of continual family ownership and operation, Cutter Aviation has been the leader in the business of aviation in the Southwestern United States and beyond for over eight decades. As a full-service aviation company, Cutter Aviation provides customers a wide range of quality General Aviation services including: fuel and line service support, new and pre-owned aircraft sales, aircraft maintenance, avionics design/installation/repair, aircraft management services, and aircraft charter through Cutter Flight Management, Inc. Cutter Aviation's convenient FBO & Service facilities in Arizona, Colorado, New Mexico, and Texas are known for providing exceptional customer service and amenities for domestic and international travelers of all types. Originally founded in 1928 in Albuquerque, New Mexico, Cutter Aviation remains the oldest continually family-owned and operated aviation services company in the United States and is a member of the Pinnacle Air Network. For more information, please visit http://www.cutteraviation.com.