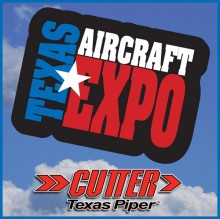 Attention Texas Aircraft Owners and Pilots! Texas Piper Sales is attending the 2011 Texas Aircraft Expos in Houston, TX; Austin, TX; Dallas, TX (Addison); and McKinney, TX (Aero Country) this Spring and Summer.
The Texas Aircraft Expos are your chance to see the latest models of general aviation aircraft and see the newest technology on the market all in one place at a location near you!
Texas Piper Sales will be attending the events and will be displaying one of our 2011 Piper Mirage or 2011 Piper Meridian aircraft in inventory and will also be able to show you the other exciting 2011 aircraft models from Piper Aircraft including the Piper Matrix, Piper Seneca V, and the Piper Archer LX — and you can also learn about the exciting PiperJet Altaire that is coming soon!
The events are free to attend and we encourage you to invite others who are interested or can benefit from General Aviation products and services to attend as well.  Each event is a fantastic opportunity to talk to aircraft sales representatives, tax experts, insurance professionals and finance officers about aircraft ownership as well as other options like leaseback, shared ownership, and charter opportunities.  Demo flights are also available at the events as well!  The Texas Aircraft Expos are truly your one stop opportunity to answer all questions about buying an airplane.
Texas Piper Sales will be attending the following Texas Aircraft Expo events:
May 6-7 – Houston, TX Area – Sugarland, TX – Sugar Land Regional Airport (KSGR)
Hours: Friday, May 6 – 3:00pm to 7:00pm / Saturday, May 7 – 10:00am to 3:00pm
RSVP Online at this link
May 20-21 – Austin, TX Area – Georgetown, TX – Georgetown Municipal Airport (KGTU)
Hours: Friday, May 20 – 3:00pm to 7:00pm / Saturday, May 21 – 10:00am to 3:00pm
RSVP Online at this link
June 3-4 – Dallas, TX Area – Addison, TX – Addison Airport (KADS)
Hours: Friday, June 3 – 3:00pm to 7:00pm / Saturday, June 4 – 10:00am to 3:00pm
RSVP Online at this link
June 17-18 – North Dallas, TX Area – McKinney, TX – Aero Country Airport (T31)
Hours: Friday, June 17 – Hours: 3:00pm to 7:00pm / Saturday, June 18 – Hours: 10:00am to 3:00pm – Part of Aero Country East Fly-In & Open House
RSVP Online at this link
For the full and updated schedule of all Texas Aircraft Expo events, visit the 2011 schedule online.  Make sure to RSVP for any event you will be attending on the Texas Aircraft Expo website.  If you are unable to attend or have any questions about the events or demo flights, please contact your local Texas Piper Sales representative:

North and West Texas
Larry Johnson – Regional Sales Manager
Dallas-Addison, TX (ADS)
ljohnson@cutteraviation.com
214-842-6186 office
214-335-0605 mobile