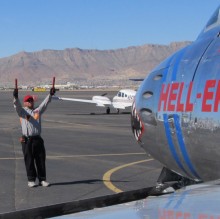 Phoenix, Arizona (News Release for Immediate Distribution) – Continuing a tradition of innovation and leadership within the Fixed Base Operator (FBO) industry, Cutter Aviation announced this week the completion of its implementation of a first-of-its-kind comprehensive FBO Safety Management System specifically developed to provide total safety management for two primary FBO business units: Line Service / Ground Handling and Aircraft Technical Service (Maintenance & Repair). The implementation of the Cutter Aviation FBO Integrated Safety Management System (FBO-ISMS) marks the culmination of the year-long initiative to develop an industry leading SMS program to address the unique safety requirements of both departments while establishing common cross-business safety practices and standards utilized by both units. The aim of the Cutter Aviation FBO-ISMS program is the establishment of a culture of safety to better protect technicians and team members of both departments in addition to ensuring a consistent standard of safety for customers and their assets at all Cutter Aviation FBO locations for both line service and maintenance service.
The Cutter Aviation FBO-ISMS program is unique in its business-like approach to safety management of two different business units, still considered by many in the industry to be mutually-exclusive operational entities, combined under one integrated and comprehensive SMS program. In addition to the benefit of enhancing the safety-focused environment of the two departments within the company with the largest work forces, Cutter Aviation also determined the creation of the FBO-ISMS program was a proactive measure to meet possible requirements in the future for FBO operations to have an active SMS program to serve operators. As the domestic and international aviation industry moves closer to mandating Scheduled Air Carriers and Air Charter Operators to implement and maintain SMS programs, Cutter Aviation identified the potential for such SMS programs to include requirements for operators to exclusively utilize vendors, such as ground and maintenance service providers, with established SMS programs.
"We realized early in the process that the development of the FBO-ISMS program would not only benefit our team members and customers with a managed and measured environment of safety at our FBO locations, but it also would become a competitive advantage for Cutter Aviation" said Scott Andre, Director of Safety for Cutter Aviation. "A culture of safety with an SMS program extending from the ramp to the hangar and into the shop is the new standard for FBO operators as flight departments use it to differentiate between businesses above and beyond their amenities and perks that drove business before."
Over the past year Andre worked with Senior Leadership including Department Directors and facility General Managers as well Supervisors and Technicians to develop the comprehensive SMS program. The Cutter Aviation FBO-ISMS Program clearly outlines safety policies, standards, objectives and goals for each service area while providing the right equipment, time, and personnel resources to establish and maintain the program as a part of the core standards of service within the company.
The Cutter Aviation FBO-ISMS Program is in operation at all company FBO facilities offering Line & Fuel Service including Phoenix Sky Harbor (PHX), Phoenix Deer Valley (DVT), Albuquerque (ABQ), El Paso (ELP), Dallas-McKinney (TKI) and Colorado Springs (COS). The FBO-ISMS Program is also in operation at Cutter Aviation Technical Services locations at Phoenix Sky Harbor (PHX), Phoenix Deer Valley (DVT), Albuquerque (ABQ), San Antonio (SAT) and Dallas-McKinney (TKI).
About Cutter Aviation
Founded in 1928 by William P. Cutter, Cutter Aviation is a full-service aviation company, offering aircraft fuel/line services, maintenance and avionics solutions, aircraft charter and aircraft sales and management. Cutter Aviation operates from eight major airports in five states within the Southwestern United States including: Arizona (Phoenix-Deer Valley and Phoenix-Sky Harbor), New Mexico (Albuquerque), Colorado (Colorado Springs), California (Carlsbad) and Texas (Dallas-McKinney, El Paso and San Antonio). The company is a member of the Pinnacle Air Network, National Business Aviation Association (NBAA), and the National Air Transportation Association (NATA). Cutter Aviation is the oldest continuously family-owned and operated FBO (Fixed Base Operator) in the United States with over 83 years of serving the General & Business Aviation industry. For more information about Cutter Aviation, please visit www.cutteraviation.com
Download PDF Version of Press Release Here:  "Cutter Aviation Implements Unique Cross-Business SMS Within FBO Network".