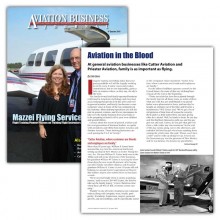 The article "Aviation in the Blood" by Colin Bane in the recently released 4th Quarter edition of the Aviation Business Journal published by the National Air Transportation Association (NATA) begins…
"Imagine starting something today that your great-grandkids will still be happily working on in 82 years. It takes vision and it takes commitment, but it's not impossible, particularly in aviation where, as they say, the sky's the limit."
We are sure it was hard for William P. Cutter to imagine how far his company would go when he decided to start Cutter Flying Service (what would later become Cutter Aviation) in the early days of aviation. But if he were here today, he would certainly be proud to see the company thriving despite the challenges faced by the Business and General Aviation industry.
So when Cutter Aviation President and CEO Will Cutter was approached by NATA to be interviewed for the article on family businesses in aviation, he was glad to help. He lent his wisdom, stories and humor about the unique challenges and opportunities in operating the family-owned Fixed-Base Operator and aviation services network over the years and his thoughts on the future.
Perhaps the most important lesson in the article comes from his definition of the "Cutter Family.
"You see these people every day, and you get involved in their lives and their families' lives. You see their kids growing up, and many of their kids have come to work for us over the years. We've also prioritized taking people from inside our company and growing them up through the business. We want to move good people up through the chain, just as I was given the opportunity to move up, and I'm proud to say we're doing it."
Though the team at Cutter Aviation may not share the same last name, they are part of our family — and like a family, everyone helps each other grow. Line technicians may become charter pilots; assistants may become managers — and like Colin Bane said in his opening paragraph: "the sky's the limit".
Read the entire NATA Aviation Business Journal Q4 2010 article "Aviation in the Blood" by Colin Bane by clicking here or by clicking on the image below.
A special thanks to the National Air Transportation Association for their permission to reprint the article here. Visit their archives of past issues of the Aviation Business Journal here or visit their web site directly at www.NATA.aero.