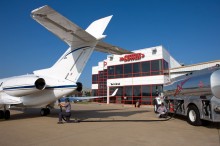 DALLAS, TX – A leading provider of aviation services in the Dallas-Fort Worth Metroplex area since 2002, Cutter Aviation has finalized a plan to consolidate all metro-area operations to Cutter Aviation's growing North Dallas location in McKinney, TX at Collin County Regional Airport (TKI).   The consolidation will move all aircraft maintenance and technical services operations from their current location at Dallas Executive Airport (RBD) in South Dallas to a new facility in McKinney later this summer, joining Cutter Aviation's current fuel & line service, new & pre-owned aircraft sales, and air charter departments already in operation at Cutter Aviation McKinney.
"This is a fantastic growth opportunity for both Cutter Aviation and Collin County Regional Airport in McKinney" said Steven Prieser, Vice President and CFO for Cutter Aviation.  "Many of our customers live and work in the growing area in North Dallas, easily connected by Highway 75 and this consolidation brings a convenient, full-service Fixed-Based Operator (FBO) facility to McKinney for the first time to better serve them."
As part of the transition, Cutter Aviation's Factory Authorized Aircraft Service Center certifications for Piper Aircraft, Daher-Socata TBM, and Hawker Beechcraft will also be part of the move to McKinney as well as Authorized Service & Installation Center certifications for Pratt & Whitney Canada, Teledyne-Continental, Raisbeck Engineering, BLR Winglets, and Blackhawk Modifications.
"We are proud to say that our experienced team of technicians, inspectors, and administrators will be making the move to McKinney with us" said Dennis Constantine, Director of Cutter Aviation Technical Services.  "The same great service and the same great people that our customers know and trust will be there in McKinney as they were at Dallas Executive."
Because of the consolidation decision, Cutter Aviation has also sold its fuel and line services business at Dallas Executive Airport to The Jet Center of Dallas.  The Jet Center of Dallas took over these operations on May 4, 2010.  Cutter Aviation Aircraft Service will remain in operation as a tenant of the Jet Center of Dallas at that location until our new facility in McKinney is ready for occupancy in late Summer.
"We're still 100% open for all aircraft maintenance and service at Cutter Aviation Dallas Executive, and will remain so until the new shop in McKinney is ready for us" said Marty Sisk, Service Manager at Cutter Aviation Dallas.  "We're going to work very hard to make the move as easy as possible for our customers and expect only a short pause in active work when the actual move takes place later this summer."
Cutter Aviation encourages current and future service customers as well as anyone in the aviation community to sign up online for the email mailing list of regular updates on the status of the transition and the progress of the new facility through the summer.  The website address to do so is: http://www.cutteraviation.com/dallas-update
About Cutter Aviation
Founded in 1928 by William P. Cutter, Cutter Aviation is a full-service aviation company, offering aircraft fueling, maintenance and avionics solutions, aircraft charter and aircraft sales and management. Serving the business aviation industry, Cutter has operations at eight major airports in Arizona (Phoenix, Deer Valley and Phoenix, Sky Harbor), New Mexico (Albuquerque), Colorado (Colorado Springs) and Texas (Dallas, El Paso, McKinney and San Antonio). The company is a member of the Pinnacle Air Network, National Business Aviation Association (NBAA), and the National Air Transportation Association (NATA). Cutter is the oldest continuously family-owned and operated FBO (Fixed Base Operation) with over 82 years of serving the General & Commercial aviation industry.